Have you ever experienced getting so sunburnt that your face ends up having dark spots all over your cheeks and forehead? Because of the sun damage, it's easy to regret going out on a sunny day without wearing sunscreen. While summer is the season that we spend a lot of time outdoors, getting sun-damaged skin causes a love-hate relationship with fun activities.
Don't worry, there's still hope! In this post, we will share some ways on how to repair sun-damaged skin and how you can prevent further damage.
Effective Sun-Damaged Skin Treatments
Sun damage can lead to premature skin aging, wrinkles, dark spots, dry skin, and unfortunately, even skin cancer. Some of us repeat the mistake, thinking that sunscreen is not essential because "it's not that hot anyway." That way of thinking couldn't be more wrong, as UV rays can still penetrate the skin even if it seems like sunlight is muted on an overcast day.
In order to fully enjoy summer activities, you must know how to pamper your skin after a day out. Here are some of the sun-damaged skin treatments we recommend:
1. Make use of Antioxidants and Vitamin C
If your skin is developing dark spots due to sun exposure, you can use Vitamin C to diminish its visibility. Vitamin C inhibits melanin production, which helps to lighten hyperpigmentation and brown spots.
Vitamin C is also known to slow the skin's degeneration due to the production of free radicals that causes visible signs of sun damage. Antioxidants slow down signs of aging, reduce UV damage, and help reduce the breakdown of collagen. Best of all, Vitamin C helps repair sun-damaged skin by encouraging cell turnover and regeneration.
We suggest you try out the following Vitamin C products from Zo Skin Health:
2. Chemical Peels
A chemical peel is a non-surgical procedure performed by a skincare specialist using different solutions to improve the appearance of the skin. The depth of chemical peels varies, as it can be superficial, medium, or deep, depending on the skin type and the results aimed for.
Chemical peels remove the outermost layer of the skin, giving way for new and clear skin to regenerate. This removes the skin with uneven pigmentation, precancerous lesions, wrinkles, and fine lines. The use of sunscreen protection is a must after going through a chemical peel, to preserve and protect the new layer of skin.
3. Laser Therapy
Laser therapy treats sun-damaged skin using an intense light beam. Because of its non-invasive nature, this type of treatment is a popular choice for those seeking quick and satisfying results with minimal downtime.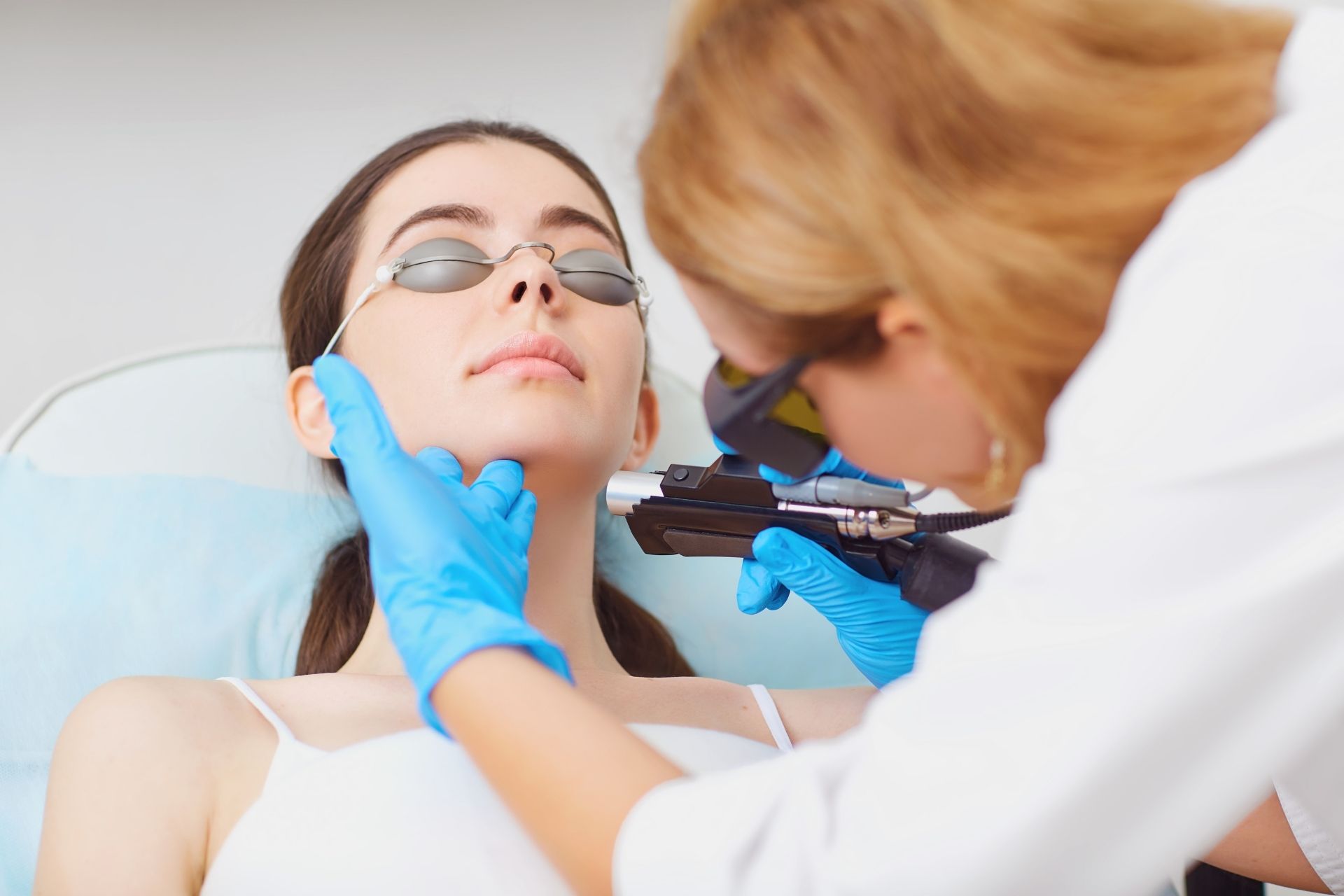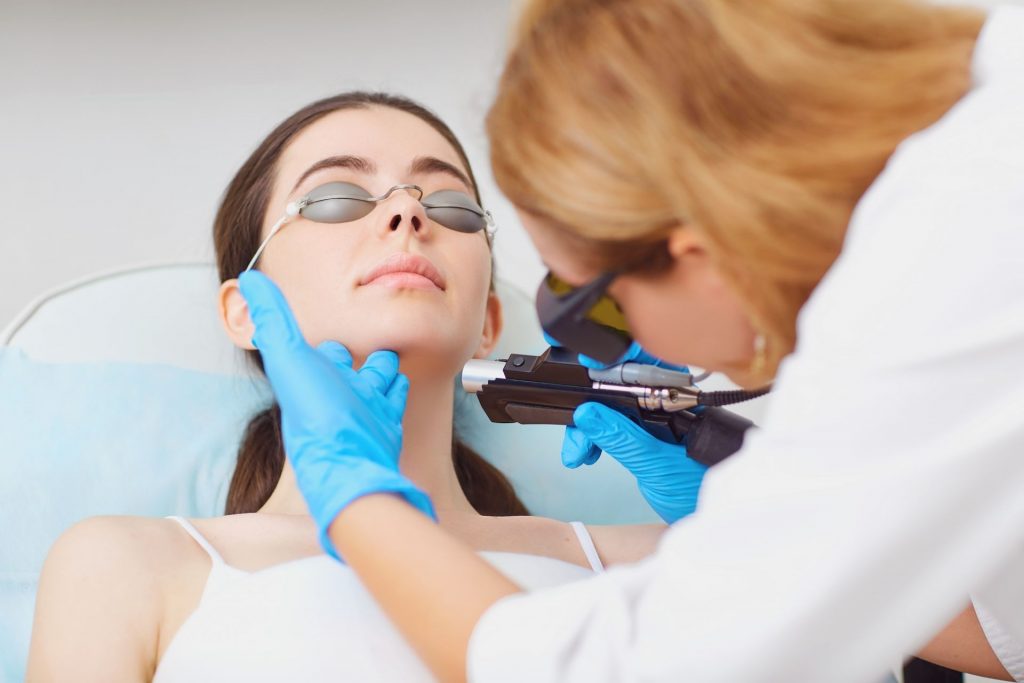 There are several types of laser therapy that can treat sun-damaged skin. Laser treatments can target the face, neck, and chest areas. Treatments typically last 30 minutes, and the downtime depends on which laser treatment is being performed.
APT Medical Aesthetics offers the following laser procedures to treat sun-damaged skin:
All of these treatments can eliminate hyperpigmentation and give a radiant look that will also shed years off your appearance!
4. IPL or BBL Photofacial
IPL (Intense Pulse Light) or BBL (Broadband Light) is an innovative light treatment that penetrates the epidermis and targets the cells that produce melanin in the skin. It is a versatile treatment that has been found particularly beneficial in removing unwanted hairs, and in treating skin discolouration and hyperpigmentation due to harsh sun exposure and aging.
Although frequently used as a facial treatment, IPL or BBL Photofacial can also be used on the neck, chest, hands, shoulders, legs, underarms, or bikini area.
Contact APT Medical Aesthetics to Treat Your Sun-Damaged Skin
If you are suffering from the effects of sun-damaged skin, we can help find the right treatment for you. Contact APT Medical Aesthetics today and get a free consultation on which sun-damaged skin treatments are ideal for your skin type. Aside from giving you professional advice on how to protect your skin, we also offer a wide range of products to help you maintain your results. Don't let sun-damaged skin rain on your summer plans!
BACK TO ALL ARTICLES