Every bride wants to look like the best version of themselves on their Wedding Day. With your big day right around the corner, you are probably spending more time at the gym and putting more thought into your diet so that you can look your best. As you count down to your wedding day and continue to check tasks off your list, don't forget to create a wedding beauty timeline that includes skincare. The right plan can mean looking great in your dress and having a clear and glowing  skin tone in all your photos.
If you want to look your best, you need to start planning for great skin months before the wedding. Waiting until the week-of won't give you enough time to truly treat, nourish and transform your skin so that you can enjoy the look you want. Here are some suggestions for creating your wedding beauty timeline:
10-12 Months Prior to the Wedding
The first step you need to take is to find a well-respected provider who can work with you to create a treatment plan. The right professional will discuss your goals and put together an individualized plan of action that pays close attention to timing.
You should also be visiting the doctor for cosmetic laser treatments in Oakville and Toronto that will tighten the skin around the face and eyes while also working to rebuild collagen. This treatment can take up to a year to take full effect, so it's important to start this treatment early.
8-10 Months Prior to the Wedding
At this point, you should have an in-home skin care regime in place that includes products that contain Retinol and Vitamin C. The active ingredients in medical-grade skin care products such as the ZO® and AlumierMD line require time for people's skin to adjust.  It's best to begin using these products ahead of time so that your skin has a chance to get accustomed to the stimulating properties of these products so you can enjoy the full benefits in time for your wedding day.
Now is also a time to opt for laser resurfacing treatments like HALO™ in Kitchener and Toronto, so that you can get several treatments over time, rather than rushing with a more aggressive treatment schedule. All of these treatments have stimulating effects that take time to unfold, which is why they are placed early on your wedding beauty timeline.
6-8 Months Prior to the Wedding
At this point on your timeline, you should be talking with your doctor and discussing whether additional HALO™ treatments are necessary to achieve the best look. You should also work on a plan for introducing dermal fillers like Radiesse® into your ongoing beauty treatment. This gives the treatment enough time to jumpstart your body's natural collagen producing capabilities and discover whether you like the results.  At home, you should be continuing to treat your skin with quality products and stick to your skin regimen.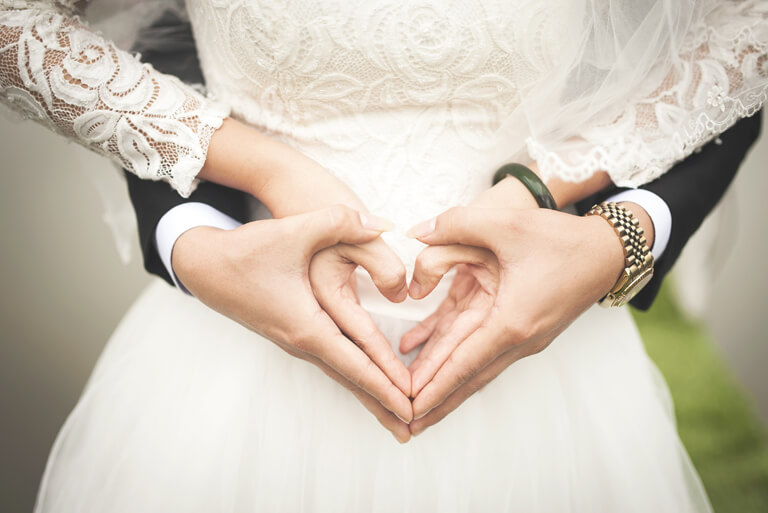 4-6 Months Prior to the Wedding
This is the time where you want to undergo any treatments that may involve a longer recovery time or require a certain window of time to take full effect such as a series of IPL treatments or Clear + Brilliant in Oakville. If you've never had Botox® or dermal fillers before, this would also be the perfect opportunity to give them a try to smooth and fill out some fine lines and wrinkles. In the months leading up to the wedding, you can receive an additional treatment and make adjustments as needed.
Latisse is another great product that will help you achieve longer, fuller eyelashes. This treatment will make your eyes pop, but it needs a few month to enjoy maximum benefits, so don't leave it for the last minute.
2-4 Months Prior to the Wedding
Now is the time to visit your treatment provider to freshen up your look with  dermal filler and/or Botox®.  These are designed to help you achieve a fuller look in areas that have naturally started to lose fat and sag and to smooth out any fine lines and wrinkles around the eyes or on the forehead. There are a variety of great products available that will restore a youthful look without requiring major surgery or invasive procedures that include lots of downtime. You also might want to consider clinical peels to help reveal youthful skin, and help touch-up any problem areas and provide you with plenty of time for any redness to heal and fade.
The key is to time everything perfectly so that the fillers and Botox® have taken full effect by the time you are walking down the aisle. Your doctor will be able to recommend the best treatment that will produce the desired result. The good news is that most filler products last a minimum of 9 months, so you will continue to look great well into the honeymoon phase of your marriage.
1-2 Months Prior to the Wedding
The final stage of your wedding beauty timeline should include any final Botox®, filler or laser treatments to smooth out any fine lines to make you picture perfect for your big day. Also within a month of your wedding; a gentle, exfoliating peel would be a great way to pamper yourself. Consider the Red Carpet peel or a gentle Clear and Brilliant® session to give you a glowing complexion.
4 Weeks Prior to the Wedding
This close to the wedding, you want to be using gentle, calming face masks and treatments that hydrate your skin without causing irritation.
Everyone wants to look their absolute best on their wedding day and with the right wedding beauty timeline, you can achieve fantastic results. A little planning can go a long way to helping you feel your best so that you can truly enjoy your day and look great in your photos. Perhaps best of all, most of these treatments will allow you to keep that youthful glow for months and years to come.
BACK TO ALL ARTICLES