Do you have sparse eyelashes?  If you haven't considered eyelash extensions yourself, take a look around the next time you're at a restaurant or on public transportation and you will surely see someone rocking a full-set of luscious lashes. False eyelashes have quickly become all the rage across all age groups and is becoming as popular as the mani/pedi. Before running to your local salon for a full set, it's important you know all the facts including the not-so-good ones in order to determine if falsies are right for you.

Lash Extensions Are Expensive and Time-Consuming
Whether you're looking at first-time application or ongoing maintenance, be prepared to break the bank. A basic set of lashes (typically between 70 to 80 lashes per eye) applied by a reputable and experienced technician will set you back at least $150 and that does not include tip. Wondering how much time to book off in your calendar? The entire process can take up to 2 hours. For those wanting to maintain their dramatic, flirtatious look, your natural lash growth will require you to go back every few weeks for a refill. This can run you anywhere from $50 to $150 depending on what kind of touch-up you need. FYI – the longer you wait between fill-ins, the more lashes you'll need to replace and the more money you'll spend.  

Choose an experienced, reputable technician
When seeking out a technician, word of mouth is probably your best referral source. Read reviews about other people's experiences before you visit a salon and pay special attention to cleanliness and hygiene. Beware of offers that highlight the words "cheap and fast". A full set of lashes should take no less than one hour to apply so be wary of those that offer full application in 30 to 45 minutes.

The first 12 hours are critical
To get the most wear out of your new set of false eyelashes, the glue needs a chance to dry. You will be advised by most technicians to avoid sweating, crying, swimming and face washing for the first 12 to 24 hours depending on what eyelash adhesive was used. Taking care of your lashes well in the first 24 hours is the key to long-lasting wear.

Your new lashes will need daily TLC at home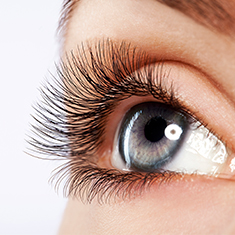 While you no longer will need to wear mascara, you will need to pick up a stash of clean, disposable mascara wands. Your new eyelash extensions can get roughed up during sleep or after a shower and they can pick up debris. While you shouldn't pick at or play with your new falsies, giving them a light brushing with a disposable mascara wand in the AM and PM will help them look their best.

Eye Complications CAN happen
What can possibly go wrong with eyelash extensions? You may think poor hygiene and sterilization are the only things that can wreak havoc on your eyes. The main culprit is when lashes aren't separated properly and are applied with a lot of glue that a lot can go wrong. Follicles become blocked, you may experience red, irritated eyes or fall victim to bacterial infections or even corneal damage. Chronic irritation and eye infection can threaten your eye sight permanently. If you suffer from dry eyes or your eyes are easily irritated, then you probably will want to stay away from eyelash extensions and opt for tinting.

After extension, your natural lashes will always appear WAY shorter
Whether it's the result of an optical illusion after having admired your lengthy lash extensions for so long or actual natural lash breakage, you may feel disappointed with how much shorter your natural lashes seem after your falsies come off. Natural lashes are fragile and are prone to breakage when extensions are overloaded and too heavy. Rubbing, picking and pulling can also cause your natural lashes to break. A great solution is to invest in a prescription lash serum named Latisse® to stimulate natural eyelash hair growth. It's the only serum approved by Health Canada for growing your own darker, thicker, longer lashes. With consistent use, you'll see luscious lashes in about 2 months and the best part is that they're your own! Visit APT Medical Aesthetics for your free consultation to learn more about Latisse® and if it's right for you.
BACK TO ALL ARTICLES