Everything You Need to Know About Botox
Every single facial expression is the product of specific muscle movements, which are typically completely involuntary. Over time, certain areas of the face most affected by these underlying muscle movements, such as the forehead and between the eyes, can develop facial wrinkles and lines.
Botox in Oakville can help treat any unwanted forehead creases, frown lines and wrinkles. Keep reading to find out more about Botox and if this cosmetic procedure is right for you.
 
What is Botox?
Botox is a cosmetic treatment used to reduce the look of facial wrinkles and lines that have been caused by repetitive movements or muscle contractions. It carefully relaxes the muscles in your face in order to prevent specific involuntary muscle contractions that cause these facial wrinkles and lines to form.
The actual procedure itself is extremely quick. After discussing your desired outcome with your cosmetic injector, the procedure will take approximately 10 minutes. Using a very fine needle, a tiny amount of the medication is injected into the muscle, and is virtually painless.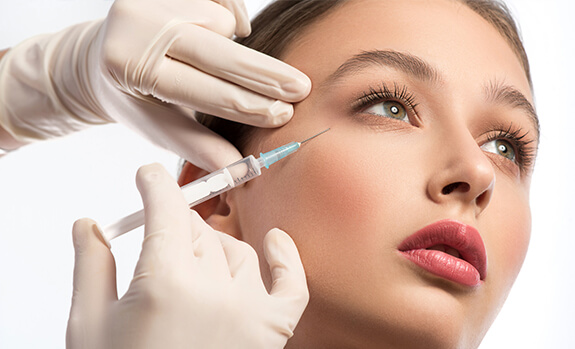 What Areas Can Be Treated with Botox?
Botox can be used to treat a variety of facial wrinkles and lines. Most patients generally undergo this procedure in order to reduce the look of forehead creases, crow's feet (wrinkles that have developed on the sides of the eyes), as well as frown lines between the eyes. However,  Botox can also be used to treat other areas such as the lips, chin, neck and lower face.
What Is Recovery Like?
One of the greatest benefits of Botox in Oakville is that there is no downtime or recovery required after your procedure! When administered by an experienced injector, side effects are rare. Occasionally there can be redness, swelling, or bruising at the site of injection, all of which are temporary.
While there is no downtime required, there are a few things that you should avoid after having a Botox treatment.  For 24 hours following the treatment:
Avoid touching or rubbing the treated area
Do not consume large amounts of alcohol
Do not have a facial or any kind of facial massage
Avoid strenuous exercise
Do not use a hot tub or sauna
What Results Can I Expect?
Botox should reduce the look of fine lines and facial wrinkles, resulting in a softer and more refreshed appearance. You will ordinarily begin to see your results after three to five days following the procedure, with full results showing after two weeks. Of course, the results you see will vary depending on the patient, what areas were treated and with what dosage.
How Long Does Botox Last?
Botox is not a permanent solution to facial wrinkles and lines. Results typically last up to four months, as the body will eventually metabolize the Botox. Therefore, in order to maintain your refreshed appearance, it is recommended that you repeat your treatment every four months. If the treatment is not repeated, the effects will gradually disappear until the treated areas regain full movement and wrinkles reappear.
How Much Does Botox Cost?
The cost of Botox will depend on a variety of factors, including the experience of the Cosmetic Injector, the area(s) being treated; and the amount of Botox needed to give you your desired result.
Is Botox Right for Me?
If you are looking to improve the look of existing lines and prevent new ones from forming, Botox may be the treatment for you.
Before undergoing any form of Botox treatment, you will have an initial consultation with one of our Medical Aestheticians. They will be able to answer any questions you may have, explain the details of the procedure, and determine whether or not you'd make a good Botox candidate. If you decide to go forward with the treatment you will also be consented with our Medical Director.
APT Medical Aesthetics offers Botox treatments to reduce the look of facial wrinkles and lines. Don't let your unwanted wrinkles get in the way of living confidently. Contact us today to book your consultation.
BACK TO ALL ARTICLES