Best Treatments for Cystic Acne on Jawline (+ Preventative Tips)
Though often associated with teenagers going through puberty, acne can also be a problem for adults, and can persist well into their 40s.
Not only does hormonal acne breakouts impact your self-esteem, but cystic acne is also painful and generally takes longer to heal. Hormonal imbalances, genetics, and external factors are the underlying causes of cystic acne, but age, stress, and skin type also play a role.
While cystic acne can occur almost anywhere, the most common area affected is the jawline. In this article, we'll discuss the best ways to treat cystic acne and what you can do to prevent it from reappearing.
What Causes Cystic Acne on the Jawline?
There are many reasons why cystic acne might appear on your jawline.
Acne often occurs when pores or hair follicles in your skin become clogged with a combination of oil (a.k.a sebum), dead skin cells, and bacteria. This causes inflammation under your skin and may be accompanied by blackheads and whiteheads.
Cystic acne can also be caused by hormonal imbalances, which can stimulate your oil glands to produce excess sebum that leads to cyst formation. Endocrine disorders such as polycystic ovarian syndrome (PCOS) can often lead to cystic acne.
Another factor is genetics. Having a family history of severe or cystic acne puts you at greater risk of developing it yourself. Other factors such as poor diet and inadequate skincare habits may also play a role.
A skincare routine that isn't tailored specifically to your needs will only worsen cystic acne. Harsh chemicals, aggressive scrubbing, and pore-clogging ingredients will contribute to excess inflammation and breakouts.
What Does Cystic Acne Look Like?
Cystic acne doesn't look like a typical pimple or breakout. The inflamed bumps may come in a variety of shapes and sizes. Some may ooze pus while others are hard, red, and painful to the touch—none of them are comfortable.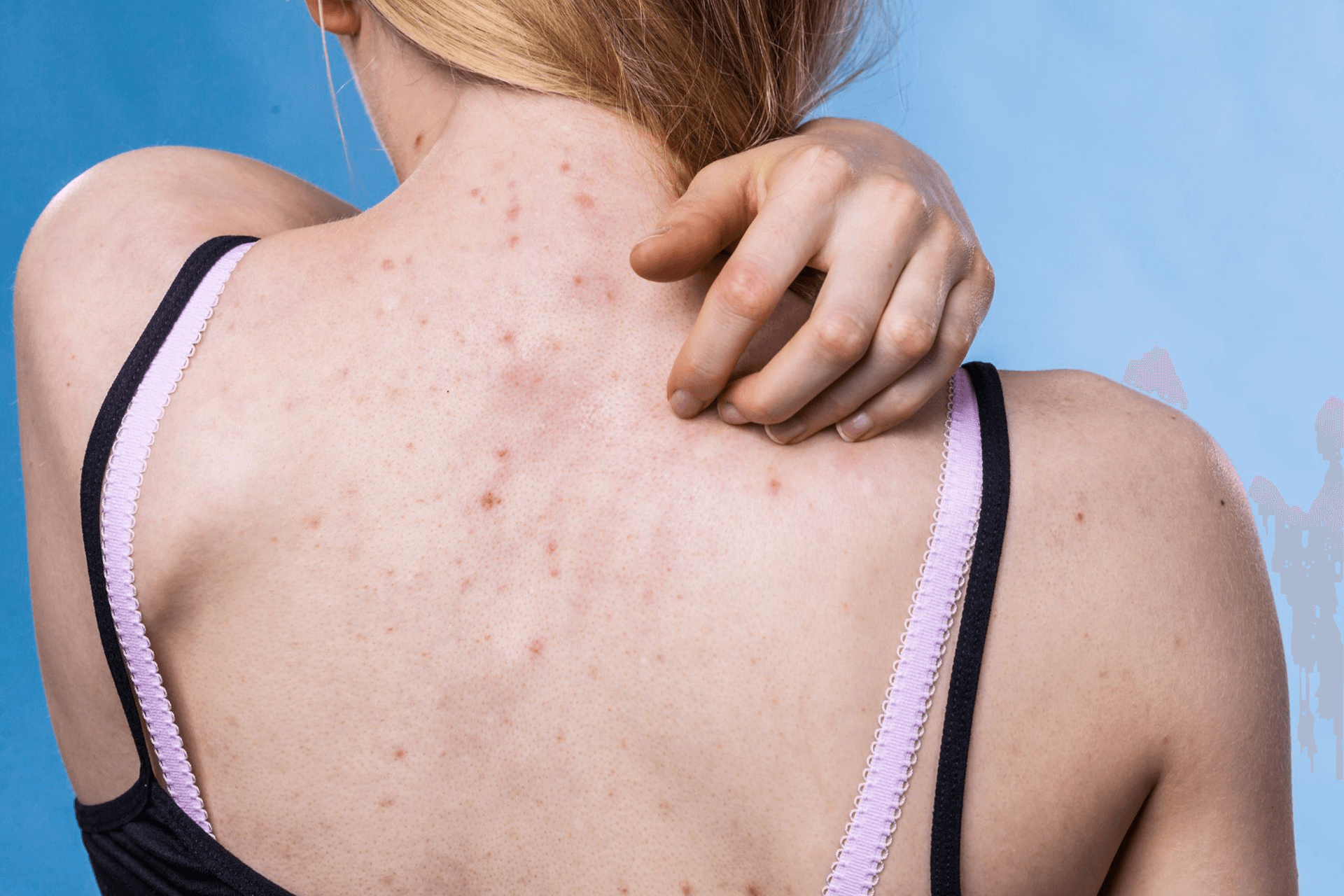 Cystic acne lesions are typically larger and more noticeable than regular pimples, ranging from a few millimetres to several centimetres in diameter. Redness around the area of the cyst is also quite common.
Beyond your chin and jawline, cystic acne might also be present on other parts of your body that produce excess oil including the back, chest, neck, arms, and buttocks. In many cases, the bumps feel like solid masses under the skin.
How to Prevent Cystic Acne on Your Jawline
Cystic acne is painful, unsightly, and can greatly reduce quality of life. When left untreated, the cysts can persist for weeks or months, making treatment essential if you are seeking relief from the discomfort. Here are some things to try:
Take Great Care of Your Skin
Dead skin cells trapped underneath the skin's surface contribute to cystic acne, therefore it is important to gently exfoliate on a regular basis to prevent build-up and remove excess oil. Skincare products should be free of oil and fragrance, and provide calming for the skin.
Ingredients such as alpha-hydroxy acids (AHAs), and beta-hydroxy acids (BHAs) can prevent build-up and reduce inflammation, while benzoyl peroxide can help the acne lesions heal faster. An oil-free sunscreen with SPF 30 or higher should be worn daily to protect the skin and reduce post-inflammatory hyperpigmentation (PIH). PIH refers to the red and/or brown marks that linger long after an acne breakout.
Once you have developed an effective skincare routine, it is important to remain consistent to allow the products time to work. Due to the skin's natural turnover cycle, it generally takes two months to see initial improvement. No product will clear acne overnight, but consistent use of the right products will improve overall skin health and reduce the frequency and severity of breakouts.
Make Changes to Your Diet
Acne can sometimes be triggered by certain foods, particularly dairy products and foods that rank highly on the glycemic index such as sugars and "white" carbs. Avoiding these triggers might help calm your skin and reduce oil production, thus reducing further breakouts.
Consider Oral or Topical Medications
Your medical professional may prescribe oral antibiotics to reduce inflammation and control the bacteria associated with cystic acne. However, your body can quickly build up immunity to these antibiotics, making them a short-term solution. Topical medications such as Retin-A can help reduce breakouts, improve acne scarring, and fade post-acne marks on the skin.
Hormonal therapy—in pill form—may also help treat hormonal acne. Birth control pills that regulate the menstrual cycle and anti-androgen medications are two examples of these types of medications.
Injection Treatments
A physician may suggest a cortisone injection to shrink large and painful acne cysts. Corticosteroids are synthetic anti-inflammatory drugs that resemble cortisol. They help minimize tissue damage, and reduce swelling, redness, and pain associated with cystic acne.
Cosmetic Procedures
Hydrafacial and Forever Clear BBL are two cosmetic treatment options that can help improve acne when paired with proper skincare. Hydrafacial utilizes deep cleansing, exfoliation, extractions, and hydration to detoxify and rejuvenate the skin. Forever Clear BBL utilizes intense pulsed light (IPL) technology to reduce acne bacteria and calm inflammation in the skin. There is no downtime associated with either one of these treatments and they can even be combined for accelerated results.
Treat Cystic Jawline Acne at APT Medical Aesthetics
Living with acne-prone skin can be challenging, especially when breakouts develop into painful cysts. The good news is that there are treatment options available.
The first step to clear skin is contacting the experts at APT Medical Aesthetics. We will take the time to learn about you and your skin, and develop a treatment program that is specifically designed to get the best results possible.
Contact us today to learn more about our acne treatment options.
BACK TO ALL ARTICLES