Common Causes of Eye Hollows and Sagging Jowls
Seeing your hollow eyes and sagging jowls go from merely present to suddenly worse can, without a doubt, be distressful. They make you appear older than you are and more stressed and exhausted regardless if you were actually well-rested last night. It is normal to be conscious and insecure when you worry about these beauty woes.
Thankfully, you do not have to live with them for the rest of your life because there are now revolutionary treatments for sagging jowls and quick fixes for hollow eyes. In this article, we'll cover the various causes that lead to hollow eyes and sagging jowls and the most effective ways to minimize their appearance, or better yet, get rid of them completely.
Let's get started!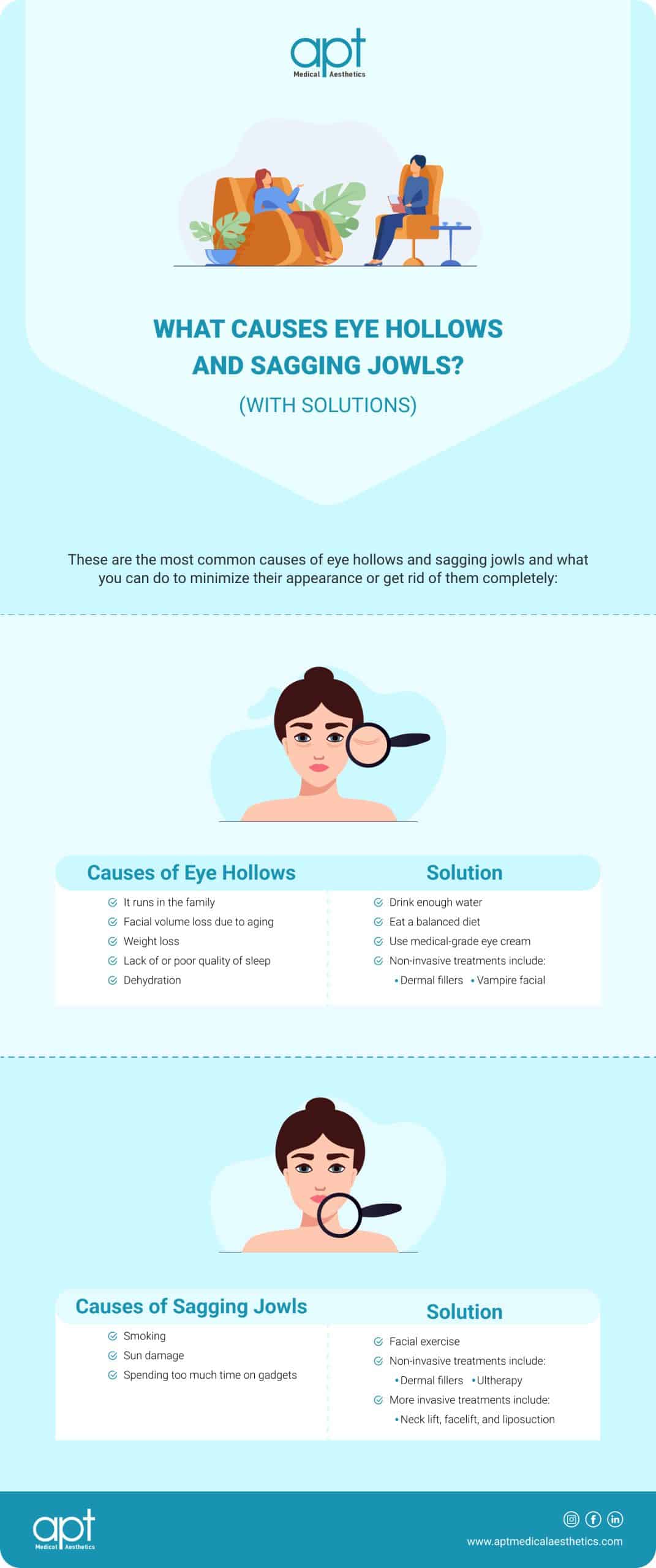 What Causes Hollow Eyes?
Sunken or hollow eyes are also called tear trough hollows in medical terms. It's usually caused by a lot of different factors, including:
Genetics – Some people are simply born with it. If either one of your parents, siblings, or anyone in your family has hollow eyes even at a young age, this means that your case is hereditary and that it's in your genes or DNA.
Aging – Hollow eyes are more prevalent in older people since it's a typical manifestation of skin aging. Due to the absence of collagen, bone and facial volume loss, the eyes sink back into the socket.
Weight loss – You tend to see the results of your weight loss in the face first. When it's rapid and excessive, whether THROUGH diet or as an effect of an illness, your face seems emaciated and develop deep and dark eye hollows.
Sleep – The lack of or poor quality sleep can also be a culprit. Missing even a couple of nights of quality sleep can lead to dark circles under your eyes. When sleep deprivation is chronic, it gets worse.
Ways to Fix Hollow Eyes
DERMAL FILLERS – The use of hyaluronic acid (HLA) dermal fillers have MADE dramatic results in addressing hollow eyes. The idea is to administer a very small dose to plump it up a bit and achieve a subtle, natural look. Juvederm is a brand of temporary HLA fillers often combined with BOTOX for maximum results.
Vampire Facial – This involves injecting the patient's own platelets on to the undereye area to naturally stimulate collagen production. Aside from adding subtle volume, this treatment will also enhance the texture and the appearance of fine lines and wrinkles in the treatment area.
An important caveat: Treating the eye area can be a delicate and sensitive matter. We recommend that you only seek a qualified and trained expert that can inject in these areas.
What Causes Sagging Jowls?
What is a sagging jowl? It's a term that describes the loose, hanging skin below your chin and the jawline.
As with other known symptoms of aging, sagging jowls occur as you mature because of the loss of collagen and elastin in your skin and the body's inability to continuously produce it in abundance as it used to when you were younger. Weight loss is also a given. When you lose weight, the facial fat that filled up your cheeks and chin will disappear but not the skin, which will end up loose and baggy.
But aside from these two, sagging jowls may also appear prematurely because of poor lifestyle choices, such as:
Smoking – The nicotine and other chemicals present in cigarettes destroys elastin, narrows down your blood vessels, prevent healthy blood circulation, and cause a decline in the supply of skin-nourishing nutrients in the body.
Sun damage – Going out in the sun without an SPF makes you vulnerable to ultraviolet light, which is one of the biggest causes of premature aging.
Too much time with gadgets – Dubbed as "the tech neck," this condition blames sagging jowls from spending long hours looking down on your laptops and smartphones or similar handheld devices.
Best Treatments for Sagging Jowls
Surgical treatment options that immediately solves sagging jowls include a neck lift, facelift, and liposuction. However, if you are not yet personally ready to go under the knife or simply see no need for a drastic measure, there are also minimally invasive non-surgical treatments for sagging jowls that you can explore.
Dermal fillers – Similar to hollow eyes, dermal fillers will add volume to areas of the face, to lift up your cheeks and chin that produces the sagging jowl.
Neurotoxin – As a muscle relaxant, BOTOX lifts the jowls upward relaxing the muscles in your neck and lower face that pull down and give the appearance of sagging skin. It also lifts, firms up, and gives the jawline a more chiselled look. Often, it works best in conjunction with fillers for this area.
APT Medical Aesthetics have several treatment options for all your beauty concerns. To know more about our anti-aging treatments, give us a call today. Book your appointment now!
BACK TO ALL ARTICLES