The Best Skin Treatments For Summer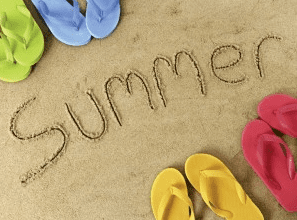 While we love summer for the sun-kissed glow it provides us, it can also throw a wrench in our anti-aging efforts. Long hours spent outdoors, sweat, dehydration and exposure to harmful UV rays all contribute to lines and wrinkles, sagging skin and uneven skin tone and texture. Want to look your best all summer long? Along with drinking plenty of water and lathering on the sunscreen, there are 3 minimally invasive cosmetic procedures that will help you look and feel your best all summer long with little to no downtime!
Dermal Fillers
Unlike a lot of lasers, injectable dermal fillers are not negatively impacted by the harsh summer sun, making it the perfect anti-aging summer treatment. Whether you're looking to restore volume to your cheeks, create a more contoured jawline or plump up your lips, a simple dermal filler procedure can leave you looking refreshed and confident this summer. Most popular fillers available such as Juvederm® and Belotero® are composed of hyaluronic acid, a substance found naturally in the body's connective tissue. Hyaluronic acid has the incredible ability to attract and store moisture in the skin and stimulate collagen growth The results of your filler treatment will immediately reduce the signs of aging and spending time outdoors will not affect your aftercare. To get the most out of your result and prevent further wrinkles and folds from developing, sunscreen reapplied every few hours when outdoors is a must.  
Botox®
Summer calendars can be jam packed with last minute getaways, summer barbecues, road trips and vacations abroad. It is difficult during this time to schedule cosmetic procedures that require preparation and downtime. Botox® is a fabulous, minimally invasive way to get rid of your wrinkles without the need to hide from the sun or slow down your summer plans. When scheduling your Botox® treatment there's no clearing of your calendar necessary and the procedure itself is quick and easy taking less than 15 minutes. By temporarily relaxing the muscles that cause lines and wrinkles to form, trouble areas such as your crow's feet will no longer appear as your squinting in the sun. Though results can take up to 2 weeks to appear, they will keep you looking naturally refreshed and beautiful all summer long.
HydraFacial
With the summer upon us, we are all looking for ways to beat the heat and stay hydrated. Dehydrated skin is a common complaint during the summer months and can contribute to a dry, rough, uneven complexion. Add sweat and salt from the pool, and the result is dead skin cells and debris that can quickly build and litter the surface of your skin. When looking for ways to combat dehydrated skin and purge it of impurities, the HydraFacial is one of the most effective and advanced facials available in the market. It has become a widely popular procedures – somewhere in the world, a Hydrafacial is performed every 15 seconds!
Hydrafacial uses a three step approach – cleansing, extraction and hydration – to boost your skin's vitality and promote good skin health. It only takes 30 minutes and there is no downtime. Through exfoliation and extraction, the Hydrafacial gently removes dead skin cells, blackheads, whiteheads and other impurities from the skin. The skin is then hydrated with intense moisturizers and super serums that contain nourishing ingredients such as antioxidents and enzymes. The end result is skin that glows from the inside out giving you a healthy, vibrant appearance.
To learn more about how you can look and feel your best this summer, visit APT Med Spa for a free consultation.
BACK TO ALL ARTICLES