How to Fix a Hairline with Thin or Receding Growth
There are many factors that could cause a thinning hairline or receding hairline. It tends to be very common among people as they age—yet it's entirely up to you whether you want to embrace it or fight back with effective treatment. At the end of the day, hair thickness doesn't define beauty!
But if you're still curious about how to fix receding hairlines and thinning hairlines, we'll be discussing some of the simplest things you can do without breaking the bank. Keep reading to discover how to effectively go about receding hairline treatments and remedying a thinning hairline.
How to Fix a Thinning Hairline
Can a hairline grow back after thinning?
Thinning hair is usually caused by a combination of lifestyle habits and genetics. You have control over the first of these, but the second tends to be out of your hands. Here are some simple, actionable steps you can start taking today in order to prevent your hair from thinning even further.
Stop Over-Treating It
Using shampoo, getting perms, and colour treatments can actually turn out to be counterproductive when it comes to keeping your hair thick and voluminous. Chemical treatments, whether done at home or in the salon, can cause inflammation of hair follicles and make your hair fall out. Of course, this doesn't mean you should stop washing your hair altogether. But tone back the high-end treatments for a while and see what happens.
Relax
Stress is a huge contributing factor to thinning hair, with stress hormones effectively working overtime to kill off new hairs that are attempting to get a foothold in your hair follicles. Whether it's meditation, more exercise, or even just getting a bit more downtime, any kind of relaxing you're able to do will make a world of difference to the health of your hair.
Eat Your Vitamins
You'll find that tips on "how to fix your hairline naturally" usually involve vitamin supplementation, but you don't always need to pop a pill. You just need to eat wisely!
Minerals and vitamins such as iron and folic acid help aid hair growth and make roots stronger, which can help prevent hair loss. Natural sources of iron and folic acid include beans, dried fruits, eggs, fish, and fresh vegetables. Foods rich in vitamin C like citrus fruits, bell peppers and cabbage also aid in iron absorption, so including them in your diet can make a big difference.
How to Fix a Receding Hairline
Handling a receding hairline isn't as straightforward as thinning hair. However, there are a few things you can do—whether you're a man or a woman. Contrary to stereotypes, this is a problem that affects women as well as men.
Consider Finasteride
Finasteride is a prescription medication for men that encourages hair to regrow on the hairline. If your hair is receding severely, it may be a good idea to check in with a doctor and mention that you're looking for a medical solution.
It works incredibly well most of the time—but it is a daily pill and might not work effectively if you're over the age of 60. It also has the potential side effect of lowering your sex drive, which is a call that only you can make for yourself. So, make sure to have a good talk with your physician if you're considering going on this medication.
Apply Minoxidil
Minoxidil is a topical over-the-counter medication generally used for male pattern balding, but it can be used as a hairline treatment for both men and women. Minoxidil hairline therapy helps shorten the hair's resting phase, causing it to enter the growing phase much more rapidly. Daily use is required, and you should aim to be using it consistently for at least six months before you can expect visible results.
Use Peppermint Oil
Although not as foolproof as the above options, there are studies that show essential oils can stimulate hair growth. According to these experiments, peppermint oil induces a rapid stage of hair growth. Positive results can be achieved in as early as one month, which makes it a promising natural receding hair treatment.
Combined Therapy
If the tips mentioned above aren't enough, or if you have thin hair and a receding hairline, don't worry! There are other aesthetic treatments that can help.
Combination Therapy using Topical Products
When one treatment doesn't work, combining solutions might. Examples of combination therapies for hair usually involve the use of Minoxidil. These include:
Minoxidil combination therapies, compared with monotherapies, can show significant increase in hair count and may even work on androgenetic alopecia.
Vampire Scalp Treatment
The innovative Vampire Scalp Treatment is an effective solution for hair loss. This treatment essentially uses your own blood's plasma—which is made up of white blood cells and platelets.
The procedure is fairly easy. The plasma will be injected into your scalp, and all you'll need to do is wait for the growth factors in your plasma to stimulate your scalp's hair follicles and induce hair growth.
Some studies have shown that the Vampire Scalp Treatment not only helps significantly increase hair growth, but also helps reduce hair dystrophy (fragile hair), and in some cases, itching and burning sensations related to hair loss. Like Minoxidil combination therapies, Vampire Scalp Treatment may also aid in the treatment of alopecia.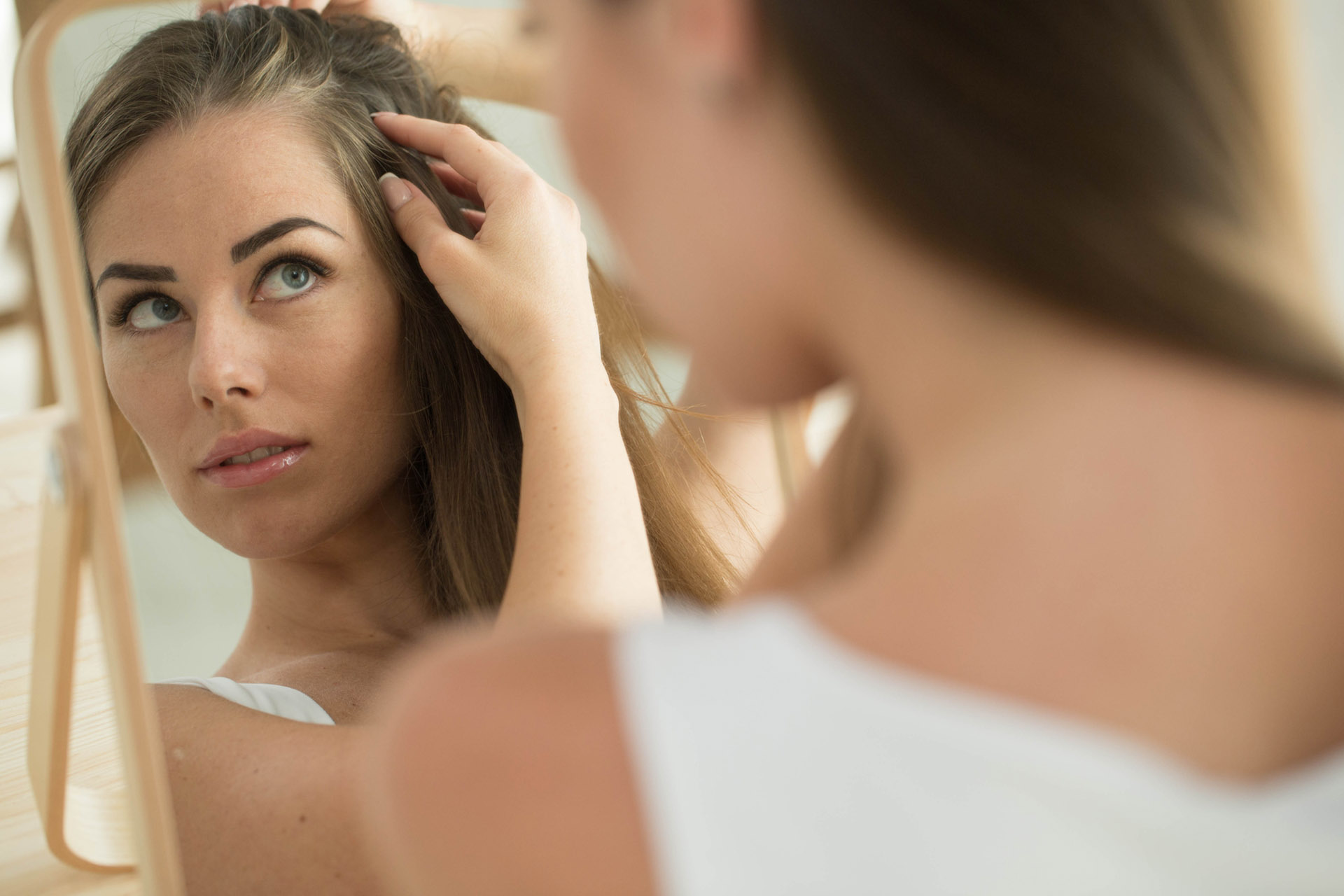 Can a Hairline Grow Back? Count on APT Medical Aesthetics
Fortunately, in many cases, hair loss and a receding hairline is reversible!
But before finding the most effective treatment, you'll need to know the exact underlying cause of your condition. That's why talking to an expert can help you get better results. So, if a spot in your hairline is making you feel less confident, it might be time to consult the experts at APT Medical Aesthetics.
Our dermatologists and licensed aestheticians can offer confidence-boosting solutions like the Vampire Scalp Treatment.
Contact us now to book a FREE consultation.
BACK TO ALL ARTICLES