Your Frequently Asked Filler Questions Answered!
First-time considering lip injections or getting your cheeks plumped? With dermal fillers quickly becoming one of the most popular cosmetic procedures performed across North America, more and more people are spending hours on Google searching for answers to their burning filler questions such as the ever-popular "do fillers hurt or "how much do lip fillers cost?". If you're thinking of getting fillers or want to know more about how they work, read below for our comprehensive list of filler facts.
What are dermal fillers?
Dermal fillers are a gel-like substance, typically composed of hyaluronic acid, injected beneath the skin to smooth lines, soften creases and restore lost facial volume. Fillers can also be used to improve the appearance of scars. Common areas on the face that people have dermal filler injected include the lips, jawline, cheeks and around the eye.
Are fillers safe and what are the side effects?
Dermal fillers are among the safest cosmetic procedures in use today. Because hyaluronic acid occurs naturally in the cells of the body, there is no risk of allergic reaction. While significant side effects are extremely rare, more common side effects of fillers such as bruising, swelling and redness are mild and tend to occur around the injection site. If you do end up bruising or swelling after your dermal filler treatment, you can expect it all to resolve itself within a week or two.
What is the difference between Botox and filler?

People often get confused about Botox and filler and what goes where. When discussing the difference between Botox and filler and how they work, it is important to remember that Botox temporarily stops the muscles in your face from making the movements that cause facial creases and wrinkles. Most popular areas injected with Botox are the forehead, frown area and crow's feet. Fillers on the other hand work by "filling in" or plumping areas of your face that have lost volume and/or need to be smoothed out. Lips and cheeks are by far the most common areas injected by dermal filler. Lip enhancement fillers have skyrocketed in popularity thanks to the likes of Kylie Jenner. Fillers are also a great way to contour and lift the jawline for a more youthful appearance.
Do dermal fillers hurt?
While there may be some slight discomfort with the needle's initial poke, the good news is that most injectable filler syringes are pre-loaded with local anesthetic making the procedure much more comfortable than it had been in previous years. To further alleviate any discomfort you may experience, your injector can apply a topical numbing cream before your treatment.
How long do fillers last?
The great thing about dermal fillers is that unlike Botox that can take up to 2 weeks for results to show, filler results are instant and will gradually improve over the next 2 to 4 weeks. Most of the popular fillers available typically last 6 to 18 months and can be maintained over a longer period of time through regular, repeated treatments. It is important to remember that longevity can vary from person to person depending on your individual metabolism and the severity of your wrinkles being treated.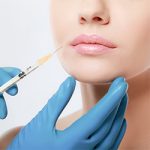 How much do fillers cost?
The cost of a dermal filler treatment depends on a variety of factors including the type of filler being used, the area of the face being treated and how many syringes are being needed. During your consultation, your nurse injector will be able to formulate a treatment plan and advise you of your exact dermal filler cost prior to your procedure.
Where should I go to have filler done?
When it comes to choosing which clinic to visit for your dermal filler treatment, price should not be your primary concern. To ensure your safety and satisfaction with your treatment, be sure to consider the following questions:
Is the injector qualified and experienced?
Is there a Medical Director on staff?
Is the injecting environment sterile?
Was your medical history and suitability for cosmetic injections discussed with you?
Were you made aware of any potential risks before your treatment?
Complications from fillers are often a result of an inexperienced injector, lack of follow up and poor product choices. To ensure a natural, refreshed look be sure to search for a qualified, reputable, highly- skilled cosmetic injector.
To learn more about fillers and how they can make you feel younger and refreshed, visit APT Med Spa for a free consultation.
BACK TO ALL ARTICLES