How Do I Get Rid Of My Large Pores?
Ever look in the mirror and can't help but fixate on the large pores on your nose or cheeks? You're not alone! We use makeup to try to hide them, pore-minimizing primers to smooth them out, when all we are really looking for is a way to shrink them. There are many potions and lotions available that claim to get rid of the unsightly appearance of large pores however many of these fads often lead to disappointment. While you can never really get rid of your large pores, there are ways to make them look smaller.

What causes large pores?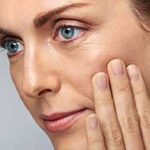 Our skin is covered with pores – small openings in the skin that release oils and sweat. On the face, pores are tiny and if lucky enough, many are invisible. On areas such as the forehead, nose and cheeks, oil production beneath these pores can go into overdrive, rising to the top of the skin and collecting in the pore. While genetics and hormones play a large part in determining pore size and visibility, other factors including excess oil, dehydrated skin and a hot and humid climate can exacerbate the problem. While we can't do much about genetics, there are ways to help reduce the appearance of pores and keep them unclogged.

How can I minimize the size of my pores?

Wash your face morning and night
The first step to good skin health is ALWAYS removing your makeup before you go to sleep and washing your face morning and night. Pores look larger when they are blocked and sleeping with makeup overnight is a surefire way to cause oil and bacteria build-up in the pores. Washing your face regularly is an easy way to get rid of dirt and oil and prevent your pores from looking larger.

Exfoliate & hydrate
When dirt, excess oil and dead skin cells collect in our pores, it makes them look darker and larger. Wondering how to get rid of clogged pores? Exfoliating at least once to twice a week will clear dead skin cells and other debris that collects in the pores. Try not to overdue it as you'll want to avoid drying out your skin. When our skin is dry, moisturizers, sunscreens and excess oil can sit on the surface of the pores where they can become clogged. Keeping your skin soft and hydrated will actually allow for better penetration of your skin care products and enhance their pore-minimizing effects.

Add retinol to your at-home skin care routine
While there is no magic potion that will permanently shrink your pores, there are some great anti-aging skin care products that are effective in making them look smaller. Nightly use of a retinol-based product will work wonders at increasing skin cell turnover and purging pores of their oily plugs. As the pores shrink with continued use, they are less likely to clog and form blackheads and whiteheads. A fabulous, new enlarged pores treatment to help keep your pore size under control is ZO Skin Health Instant Pore Refiner.

Have regular clinical peels
Professional peels are a great, cost-effective way to keep skin looking rejuvenated and purge your skin of blackheads and dead skin cells. While peels have many benefits, they are an especially effective tool in combatting the appearance of large pores. Having a peel regularly every 4 to 6 weeks will result in a smoother and tighter complexion and significantly reduce the appearance of large pores. Peels come in a variety of strengths and there are a range of different ingredients available – glycolic acid, salicylic acid and TCA to name a few – depending on your skin type and specific skin concerns. When choosing which clinical peel treatmentis right for you, it is best to trust the judgment of a Medical Aesthetician. A Complimentary Consultation will allow your treatment provider to properly assess your skin's needs and provide you with a peel solution specifically tailored for you.

Try a laser treatment
A safe and gentle laser option to treat enlarged pores is the Clear + Brilliant. This anti-aging laser is clinically proven with over 20 published clinical studies and has become a red carpet favourite. In addition to effectively reducing the appearance of pores, the Clear + Brilliant improves the look of fine lines, skin tone and texture. It is a quick treatment will little to no downtime and can be used on a variety of skin tones.
To learn more about how you can shrink your pores, visit APT Med Spa for a free consultation. Be sure to also visit our e-skin store! today.
BACK TO ALL ARTICLES