How To Keep Your Skin Healthy and Clear This Summer
During the summer, many people feel like the increased exposure to the sun will put a hold on reaching their skin care goals. While it's true that many skin care products we use during the winter, specifically those containing Hydroquinone and Retinol-A, leave us vulnerable to sun damage, there are sun-safe alternatives available that will keep your skin clean, hydrated and bright during the summer months. With the right choice of products, you can keep moving towards your skin care goals. Here are some helpful tips for keeping your skin in check this summer:
Be Sure to Prepare for Trips
The summer months can be an especially challenging time for skin care. Many people are planning vacations and getting caught up in the mad rush of prepping for a 1 or 2 week holiday. Even a simple day at the beach can make it easier for us to neglect our skin. Have a plan in place and be sure to have your skin care staples on hand.
Keep Your Skin Clean
In addition, sweltering temperatures and more time spent outdoors engaging in activities creates the perfect opportunity for dirt and sweat to accumulate on the skin. That makes it especially important to keep the skin clean and exfoliate regularly to maintain a glowing complexion.
Use the Right Products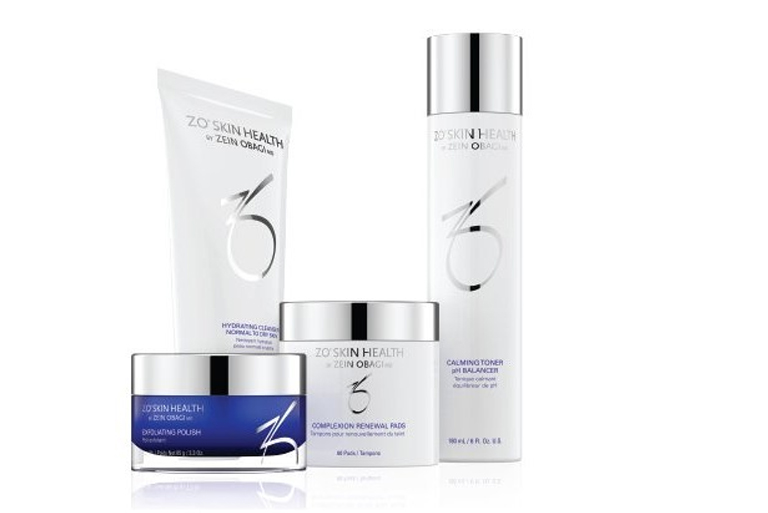 ZO Skin Health products designed by Zein Obagi, MD, offers a fabulous, practical solution to keeping your skin looking and feeling great during the summer. Their GSR or "Get Skin Ready" Kits are pre-packed with the right combination of products to keep skin clean and polished during the summer months. Each kit contains a cleanser, polish and toner pads and are easy to pack and air-travel friendly! Using this kit is an important part of any skin care regime as it will help remove dirt and sweat and help unclog your pores.
Many people who struggle with uneven skin tone due to hyperpigmentation get especially nervous as summer approaches because traditional skin care products used to treat conditions, such as melasma, contain bleaching agents that can leave the skin extremely photosensitive to sunlight.  Any unprotected sun exposure can further damage melanocyte cells in the skin and lead to even more brown spots.
Fortunately, significant strides have been made within the skin care industry to offer those suffering from uneven skin tone sun-safe alternatives they can use during the summer months without worrying about undermining the benefits of their skin care regime. One such product is BRIGHTALIVE by ZO Skin Medical.
BRIGHTALIVE uses a multi-vectored skin pigment management approach to control the appearance of dark spots. Rather than relying on bleaching ingredients, this product contains alpha-arbutin and plant phytotechnology to inhibit melanin production. With consistent use of the clinically proven BRIGHTALIVE, you can expect to see a reduction in the appearance of brown spots, and more even skin tone overall.
However, it is important to remember that using a product like BRIGHTALIVE does not mean you can loosen the reins when it comes to sun protection. Regardless of your skin challenges or existing skin care regime, sunscreen is an absolute MUST and should be reapplied every 2 hours.
Not all of your winter skin care products will work the same during the summer, but there are great alternatives that will allow you to continue to work towards and maintain a healthy, youthful glow. A little planning can go a long way and allow you easy access to the right combination of products to clean and exfoliate your skin. Also, be sure to consult with your doctor if you aren't sure whether your current products are right for summer use.
BACK TO ALL ARTICLES