Radiesse vs Juvederm: What Is the Difference?
Dermal filler treatments are the perfect alternative for anyone looking to improve their facial contours by adding volume to their cheekbones or defining their lips for a sexier pout without going under the knife. The results are subtle, which helps create the illusion that they're natural and as if you've never had any work done.
In this article, we compare Radiesse vs Juvederm, two of the most popular injectable dermal fillers currently used for aesthetic enhancements. Get to know their benefits, what sets them apart from each other, and which one will work best for you.
Keep on reading to learn more!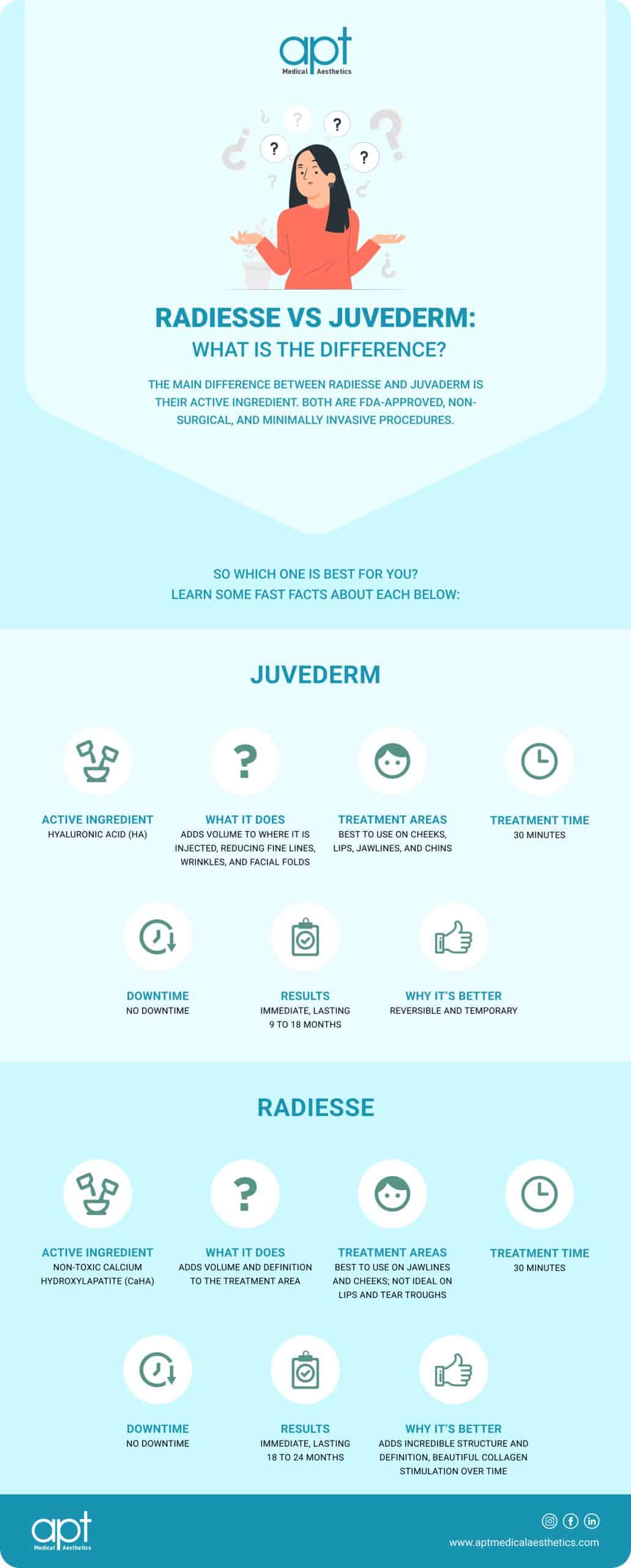 The Beauty of Dermal Fillers
Juvederm and Radiesse are both FDA-approved dermal fillers that offer fantastic cosmetic results. It's a non-surgical and minimally invasive procedure administered via injection on the cheeks, lips, jaws, forehead, chin, around the mouth, and even to the hands. 
As an anti-aging approach, both cosmetic fillers effectively address fine lines and facial wrinkles, including marionette lines and nasolabial folds. They instantly smoothen out wrinkles and reduce the appearance of any visible fine lines as they plump up and introduce volume to various treatment areas, which is not only limited to the face but also aging hands.
Dermal fillers also offer a contouring effect by filling treatment areas like the cheeks, which is one of the first areas that suffer from volume loss due to aging or excessive and sudden weight loss. As a result, the face gets a more defined, lifted, and chiselled appearance. They can also enhance the appearance of depressed scars from acne although radiofrequency/microneedling and laser can also help in this regard.
If you're doing your research on lip augmentation, you've probably noticed that "Radiesse vs Juvederm" is on the top keyword searches list when it comes to getting irresistibly fuller lips. While both fillers have various indications for facial revolumization, only Juvederm is appropriate to put into the lips. Done well, Juvederm can shape the lips in a stunning and sultry way that looks so natural.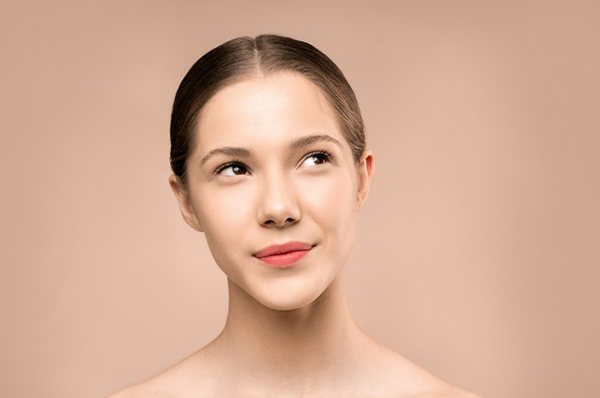 The Main Ingredient
The most significant difference between Radiesse vs Juvederm lies in the active ingredient in each dermal filler injection. Let's delve deeper into that.
What's in Juvederm?
Like most dermal fillers in the market (such as Belotero, Emervel, Ravenesse, Perlane and Restylane), the main component of Juvederm is hyaluronic acid. It is a naturally occurring carbohydrate that is present in the body's tissues. Higher concentrations can be found in soft connective tissues, tissues around the eyes, cartilage, and skin tissues. Aside from being used in dermal filler injections, hyaluronic acid is also medically used for treating people with joint pain and arthritis.  Dermal fillers are stabilized with a binding agents that enables their longevity in the skin tissues.  They are however, eventually broken down and metabolized just like your own natural hyaluronic acid.
Radiesse, AKA Calcium Hydroxylapatite
Radiesse features non-toxic calcium hydroxylapatite (CaHA). It's a naturally occurring compound that is abundant in teeth and bones – think calcium and phosphate. For dermal fillers, CaHA is biosynthetically produced, meaning no animals were harmed and making it vegan-friendly. The compound is suspended in a water-based solution with a gel-like consistency. 
What makes Radiesse stand out from other dermal fillers like Juvederm is that aside from doing the job by adding volume and definition to the treatment area, it also stimulates natural collagen production. We all need collagen as we age and Radiesse helps stimulate the production of collagen in a way that hyaluronic acids can not. As an extra boon of replenishing collagen supply, the skin will continue to show noticeable transformations in texture, luminosity, and a dramatically youthful appearance over a period of months even after the body has completely metabolized the product. Since Radiesse has a different composition than Juvederm, it adds more structure, definition and shaping than its' hyaluronic acid counterparts. It is often used in the cheeks and jaw lines but best not to be used in lips and tear trough areas.
Both Radiesse and Juvederm dermal fillers contain a tiny amount of lidocaine, an anesthetic substance, to make the cosmetic injection treatment virtually painless and comfortable.
Radiesse vs Juvederm Treatment Time
In general, dermal fillers are pretty straightforward. First, your doctor will mark the targeted treatment areas and prep them by cleaning with an antiseptic solution. A topical numbing cream may be applied, which may be unnecessary because both already have lidocaine content for pain management. The product will be directly injected into the skin. 
They are quick, hassle-free in-office cosmetic treatments that can be done in a relatively short amount of time. Radiesse and Juvederm can be done in approximately  30 minutes, depending on how many injections you will receive.
What Results You Can Expect: Radiesse vs Juvederm
Both dermal fillers show remarkable results. There may be slight swelling post-treatment, which will clear up on its own after several hours. Typically, noticeable changes can be seen immediately. Whether you got fillers for lips or cheek enhancement, the treatment area will appear all plumped up, radiant, and glowing. You will fall in love with the results even more as the extra-swelling subsides and the skin completely heals in the coming days.
For Radiesse, it gets even better after a week and in the coming months as the boost in natural collagen production takes effect. You will see that your skin gets a naturally dewy glow and that your complexion becomes clearer, brighter, and flawless.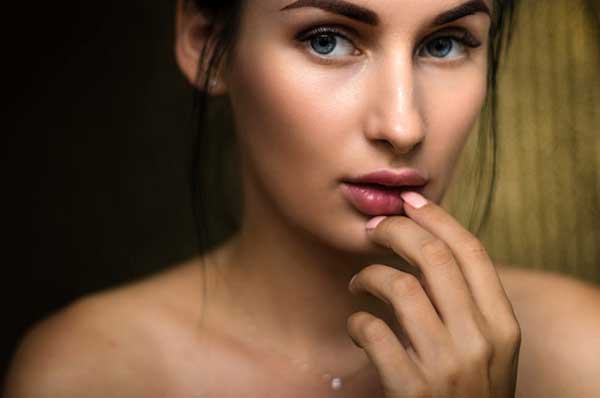 Which Last Longer Radiesse or Juvederm?
Currently, all dermal fillers only offer temporary results. How long they last can be different from person to person and how fast they metabolize and dissolve the products out of their system naturally. 
When it comes to Radiesse vs Juvederm's staying power, the first one wins with its ability to maintain results for typically 18 months although it can last up to 24 months or even longer in some people. On the other hand, Juvederm does not fall far behind because it typically lasts 9- 18 months with again some variability amongst people.  Typically , what happens with filler is that people become used to what they look like and even though the original filler is still present, they often present in the office for more injections.  Your injector will be able to advise you if further treatments are actually needed at any one time.
Both dermal fillers have an excellent client satisfaction rating supported by research. A clinical study with 208 participants revealed positive results for lip enhancement for Juvederm Ultra XC and that 75% were still happy even after a year post-treatment with notable improvements in the softness and smoothness of their lips. 
The manufacturer of Radiesse, on the other hand, published a study and survey data exhibiting the lasting effects of the filler in correcting the appearance of aging hands with the majority of participants reporting improvements.
Book Your Free Consultation
APT Medical Aesthetics offers the latest dermal filler treatments available today. If you are still torn about Radiesse vs Juvederm, we encourage you to schedule an appointment with our team of medical experts. They will patiently guide you about dermal fillers' benefits and develop a personalized treatment plan that can help you achieve your beauty goals. 
Book your free consultation today!
BACK TO ALL ARTICLES