Top Contributors to Sagging and Textural Changes in Your Skin
Have you recently noticed any changes to your skin including sagging, uneven skin tone, or dry and rough patches around your face and different areas of the body? While aging is a natural source for some of these concerns, there are other, manageable factors that should be taken into consideration as well.
So, what could have triggered the more sudden alterations in your skin and what can be done to combat them? To give you a clearer perspective on this topic, we'll delve into the types of skin texture changes, sagging skin, the root causes and the best treatment options available.
What Causes Sagging Skin?
Our skin is like an elastic band that can naturally stretch and snap back into place, but, when it loses its elasticity, it starts to become loose and saggy. Sagging skin can appear in various areas of the face and body, including the eyelids, jowls, chin, throat, upper arms, stomach, inner thighs, and legs.
Here are some examples of the potential causes for sagging skin:
Sudden Weight Loss
When you gain weight and your body has been accustomed to that for a long time, it stretches out and damages the collagen and elastin fibers in your skin. This explains why when you drastically lose a considerable amount of excess weight, there's a high chance that you will end up with droopy skin that hangs on the body. This is why crash diets for rapid weight loss are not recommended by health experts.
Age also plays a huge role. Generally, younger people can gain and lose weight without having to worry about noticeable sagging in their skin because they still have a generous supply of collagen and elastin.
Pregnancy
Pregnancy is another notorious culprit for causing sagging skin due to the sudden weight gain and loss involved in the process. A tremendous amount of stretching happens in the abdominal area as the child grows inside the uterus of the mother. In this scenario, the woman's maternal age and genetics may influence the degree of stretch marks and sagging skin seen after the delivery of the baby.
It's important to take care of your skin while you're pregnant in order to prevent sagging skin after the baby is born. Treat stretch marks as they appear with moisturizers that contain coconut oil, vitamin E and shea butter. After the baby is born, make sure to stay hydrated with at least two litres of water a day, lose weight slowly with a balanced workout schedule of weights and cardio, and eat a healthy balanced diet.
Medical Conditions
Sagging skin may also be a symptom of a specific health condition. According to Healthline, this includes a rare subtype of cutaneous T-cell lymphoma, known as granulomatous slack skin. Another condition, Ehlers-Danlos syndrome (EDS), is a rare and hereditary connective tissue disorder, which involves a deficiency in collagen production that results in loose and sagging skin in the face.
Aging
When we age, the body naturally decreases the production of collagen and elastin, which are the two essential proteins needed by the skin to maintain its elasticity and tautness. In addition, aging also causes you to lose facial volume, which manifests as hollow temples, sunken-in eye sockets, flattened cheeks, or loose sagging skin around the jawline, creating jowls.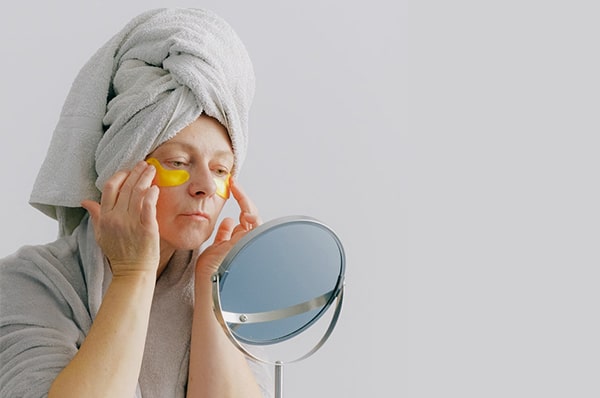 Types of Skin Textural Changes
There are several types of skin texture changes. Some are easier to treat with department store skin care products while others require the help of a skincare professional who can recommend a suitable medical-grade skincare product or non-invasive cosmetic treatment to be managed effectively.
Dryness
Skin dryness is an extremely common condition and can be caused by a wide range of factors, including cold weather, low humidity, use of skin-drying skincare products, imbalanced pH levels in the skin, smoking, sun damage, or an underlying skin or medical condition. The simplest form of skin dryness typically clears up with proper skin hydration and moisturization.
Acne and Acne Scarring
Anyone struggling with acne can attest to the fact that it can alter your overall skin quality while active, and even more so when it's resulted in acne scars. When the wounds are deep, acne scars can change the skin texture as they appear depressed/indented or elevated. The type of scar is caused when the body produces too much or too little collagen. Examples of acne scars include:
Boxcar acne scars
Ice pick acne scars
Rolling acne scars
Lumpy hypertrophic and keloid scars
The most notable treatments for severe acne scarring are fractional laser treatments, dermal fillers, chemical peels, and microneedling – all of which have proven to provide glowing results!
Rough, Scaly, and Red Patches
A skin condition that produces rough, scaly patches of skin and generally affects those over 40 is actinic keratosis. It's a potentially dangerous form of sun damage that may lead to skin cancer. Individuals that have blonde or red hair with lighter complexions are at highest risk for this condition. If you are concerned about this, please see a doctor immediately.
Another possible cause of this type of skin texture change could be eczema or atopic dermatitis, which is also characterized by patches of red, scaly bumps on the affected area. It's a hereditary condition that can be managed with a special skincare regimen.
Get Healthy and Beautiful Skin with APT Medical Aesthetics
Whether you're dealing with sagging skin or different types of skin texture changes, APT Medical Aesthetics is here to help. We supply all the latest beauty and skincare treatments and products designed to address every skin concern.
Our dedicated team of medical aesthetic experts will be more than happy to work with you to develop a personalized treatment approach. Book your free consultation today!
BACK TO ALL ARTICLES