How Can The Halo Laser Treatment Benefit Your Skin?
Halo laser treatment is a true skin game-changer. 
Visible signs of aging such as fine lines, wrinkles, hyperpigmentation due to sun damage, pigmented lesions, acne scars, enlarged pores, rough skin texture, and uneven skin tone—these skin concerns can all be corrected with this hybrid fractional laser. 
But what exactly is a Halo laser?
In this article, we'll talk about how the remarkable Halo treatment can revitalize your skin, address a spectrum of imperfections, and usher in a newfound confidence in your natural beauty.
4 Benefits of Halo Laser Resurfacing
The Halo laser is a revolutionary skincare technology that uses a hybrid fractional laser to deliver both ablative (2940nm) and non-ablative (1470nm) wavelengths in the same treatment area. This creates a strong effect that removes pigmentation, stimulates collagen production, and improves the appearance of wrinkles, sagging skin, and uneven skin texture. 
Halo treatment's skin-brightening effects can last for years. In fact, some people who have received this treatment say they've not worn makeup since!
When compared to other laser skin resurfacing options, Halo offers a highly effective treatment with minimal downtime and a more painless and comfortable experience. Ablative lasers alone can't deliver these results—that's the beauty of Halo. 
1. A Poreless Complexion
Pore size is a concern for many people, however, it's important to note that aging, hormonal changes, genetics, dehydration and sun damage are all significant contributors to enlarged pores—it's nothing to be ashamed of.
Pores become more noticeable when they are clogged with excessive amounts of sebum oil and other impurities from makeup residue, dust, and dirt. The buildup creates a blockage that stretches out your pores, and as a result, makes them appear bigger than they are.
How the Halo Laser Can Help
Luckily, Halo laser reduces the appearance of pores and can give you a porcelain-smooth complexion. 
The effects of Halo balances out your skin's oil production to reduce the frequency of pimples, blackheads, and whiteheads from appearing on your skin.
2. No More Fine Lines and Wrinkles
Premature aging can be frustrating—we all know it's happening, but why does our skin have to look like it's eager to speed up the process?
How the Halo Laser Can Help 
The dual-action approach of the Halo laser—combining ablative and non-ablative energies—addresses fine lines and wrinkles comprehensively. This combination leads to smoother, plumper skin and a visible reduction in the appearance of fine lines and wrinkles.
3. Banish Dark Spots and Blemishes
Dark spots and other types of skin discolouration can be caused by excessive and prolonged unprotected exposure to the sun. Also referred to as sunspots, these primarily appear on your face, shoulders, back of the hands, and other areas that are frequently exposed to the sun.
How the Halo Laser Can Help
The Halo laser treatment's precision allows it to target areas of hyperpigmentation, including dark spots and blemishes. The laser energy breaks down melanin clusters responsible for uneven pigmentation, encouraging the body to naturally eliminate these imperfections. Over time, as the skin renews itself, a more even skin tone and reduced appearance of these blemishes can be observed.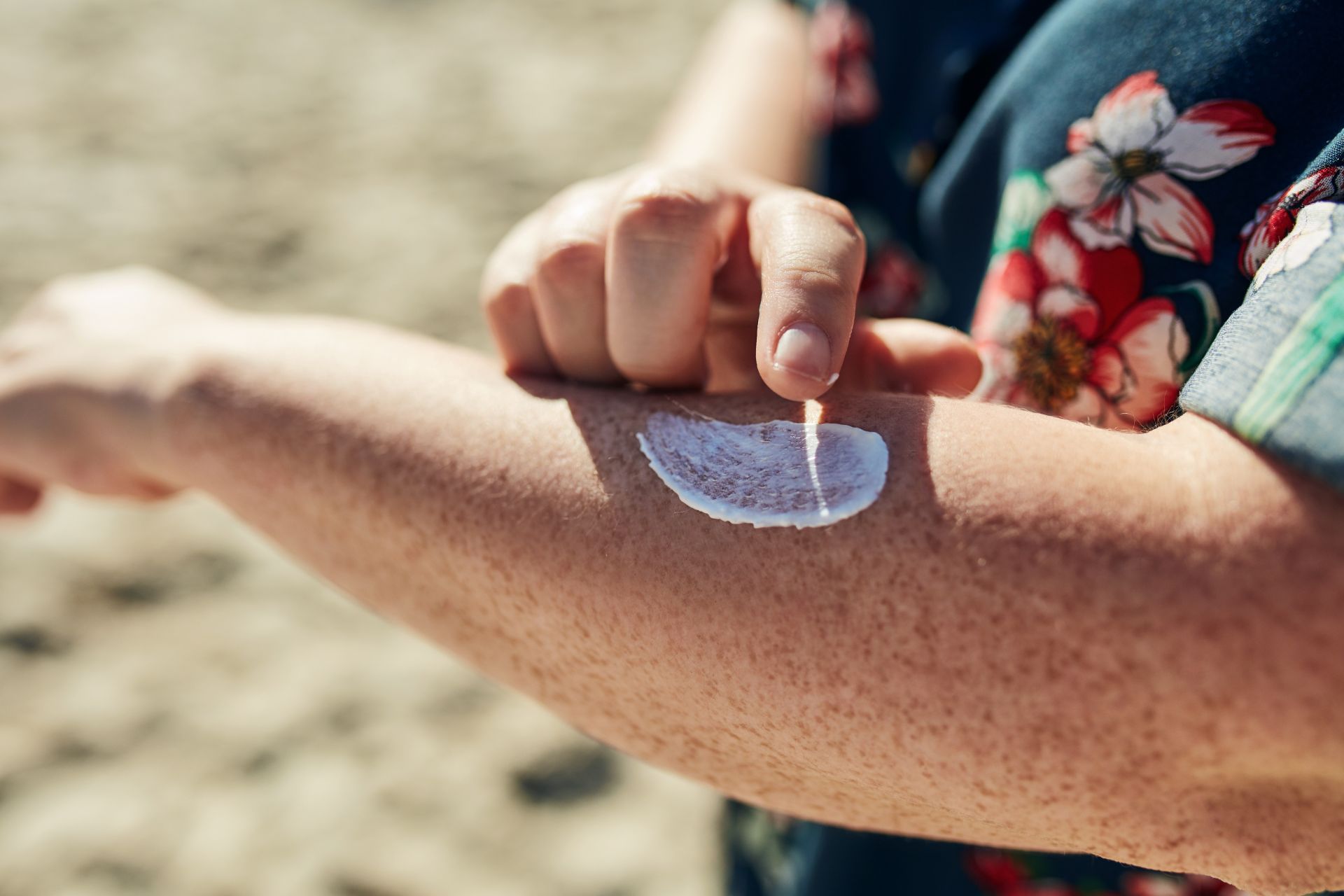 4. Less Noticeable Scars
If you have scars from acne, an injury, or a surgical procedure, the Halo treatment offers a transformative solution.
How the Halo Laser Can Help 
The ablative laser energy active in Halo treatments helps resurface the skin's outer layers, effectively reducing the visibility of superficial scars. Additionally, the treatment's promotion of elastin and collagen production can help smooth and fill in uneven scar tissue, leading to improved texture and diminished scar appearance.
Hypertrophic scars—which are slightly raised, thick, and wide—can gradually appear flatter and lighter in colour after each treatment. Indented scars, also known as atrophic scars, can also gradually become more refined.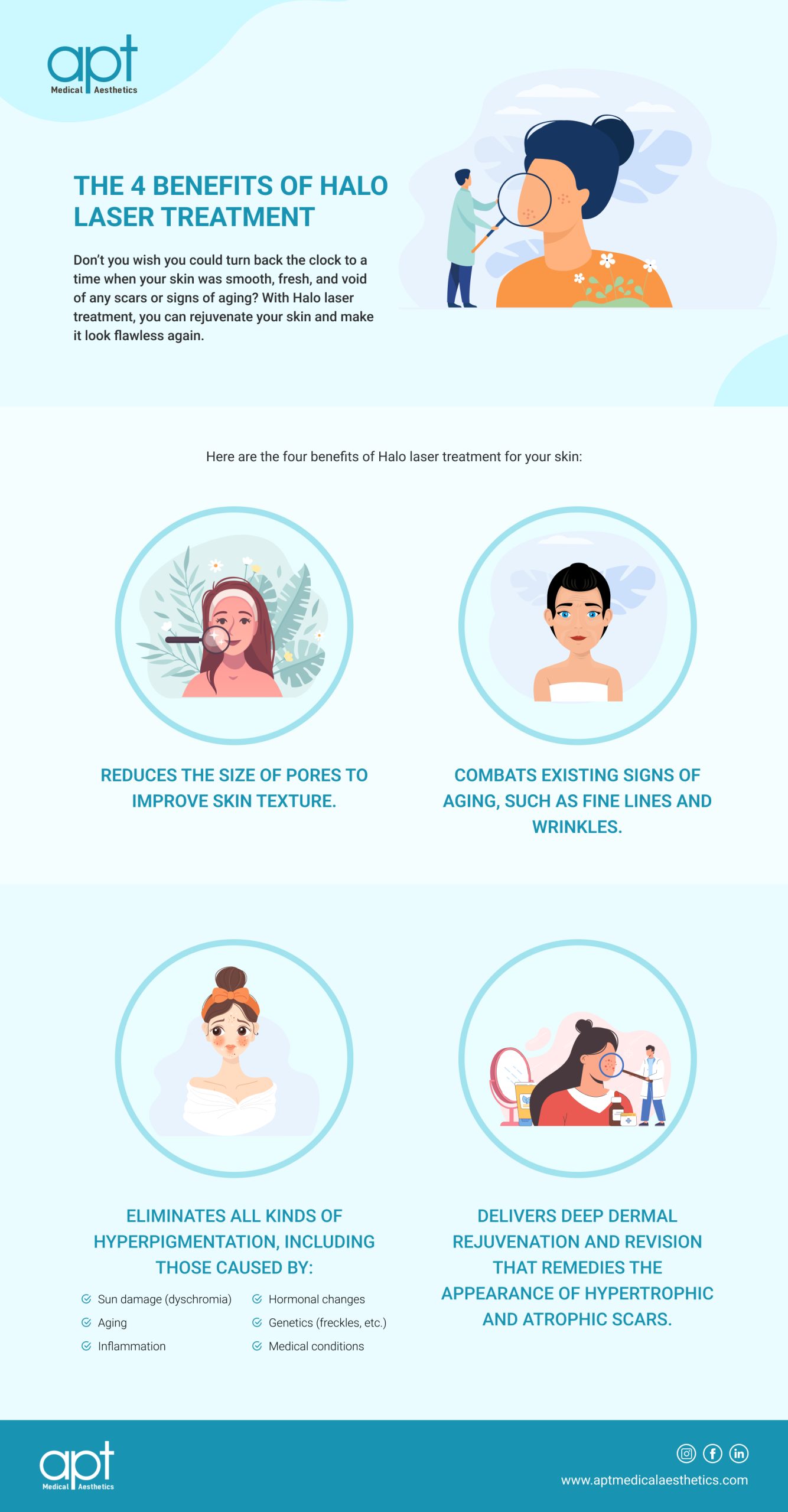 Alleviate Stubborn Skin Concerns With Halo Treatment
Fight stubborn skin concerns with minimal downtime!
The Halo hybrid fractional laser treatment is no doubt a powerful and adaptable solution that benefits the skin in many ways. Effectively targeting the signs of aging, sun damage, and more—regardless of an individual's skin types—the Halo laser resurfacing treatment may just be what you're missing in your skin care routine.
At APT Medical Aesthetics, the pursuit of radiant skin is not just a destination—it's an art form, a science, and a commitment to your wellness. 
Join us at our world-class medical spa in Ontario. We offer an extensive range of beauty and skincare treatments, including Halo treatment. 
For more information about this revolutionary treatment, contact us today!
BACK TO ALL ARTICLES