Morpheus8 vs. Ultherapy vs. Halo Treatments: Which One is Right for You?
If you've been on the lookout for the best skin-tightening and anti-aging procedures, then perhaps you've heard a lot of wonderful things about the most popular non-surgical cosmetic advancements available today: Morpheus8, Ultherapy, and Halo.
Each treatment has its own set of winning qualities, which can make choosing one even more confusing. To help you with that, we're going to break down their differences and individual beauty benefits to give you an idea of which one might work best for you!
Keep scrolling for the complete comparison guide of Morpheus8 vs. Ultherapy vs. Halo Treatments.
➔ Morpheus8: Microneedling and Radiofrequency Energy
➔ Ultherapy Treatment: Ultrasound Energy and Imaging
➔ Halo Treatment: The First Hybrid Fractional Laser
➔ Morpheus8 vs Ultherapy vs Halo Overview
➔If You Want to Correct Signs of Aging
➔If You Have Mild to Moderate Skin Laxity
➔ If You Have Darker Skin Tones and Want to Look Chiselled
How They Work
Morpheus8: Microneedling and Radiofrequency Energy
A Morpheus8 treatment involves using a combination of radiofrequency (RF) technology and microneedling. The RF waves create a more sculpted look, as it can penetrate approximately 4mm deep and restructure the adipose fat tissues on the subdermal layers of the skin.
Its microneedling component induces microscopic injuries on the skin to trigger its natural healing response and promote healthy collagen and elastin production. You can also expect an improvement in your skin texture and a more youthful glow post-treatment.
It can also dramatically enhance sagging jowls in the face and neck, as well as refine any loose skin elsewhere on the body. Even better, Morpheus8 results can last up to two years, depending on how patients take care of their skin.
Ultherapy Treatment: Ultrasound Energy and Imaging
The Ultherapy treatment is the first FDA-cleared and Health Canada-approved non-invasive procedure that lifts and tightens the skin without requiring surgery. It uses micro-focused ultrasound energy designed to produce a thermal effect under the skin to stimulate the body's natural collagen production. As a result, the skin becomes firmer and more radiant.
With Ultherapy, a provider can utilize the traditional ultrasound imaging feature that goes deeper into the skin's layers to target particular areas that need a collagen boost.
Halo Treatment: The First Hybrid Fractional Laser
The Halo treatment is a revolutionary hybrid fractional laser that expertly combines tunable non-ablative (1470nm) and ablative (2940nm) wavelengths to deliver deep dermal rejuvenation and epidermal renewal. It boasts an intelligent energy delivery and Dynamic Thermal Optimization feature that guarantees accurate and consistent results while maintaining a comfortable experience for the client.
Unlike Ultherapy and Morpheus8, Halo treatment is not specifically intended for skin tightening, although several clients report that they notice a subtle "lifting" effect after their treatment.
Halo's strengths are best focused on addressing hyperpigmentation due to years of sun damage, scarring from acne and blemishes, pigmented lesions, and early signs of aging, such as fine lines and wrinkles.
Treatment Experience and Recovery
Morpheus8, Ultherapy and Halo are all excellent examples of non-surgical cosmetic procedures that effectively rejuvenate the skin. This means no incisions, no stitches, and minimal to no downtime involved.
All three treatments are straightforward in-office procedures that take around an hour to complete. In some cases, it may take a bit longer, depending on the size and severity of the treatment area and whether you are getting it in addition to other aesthetic enhancements at the same time.
While Ultherapy is limited to treating the facial area and décolletage, Morpheus8 and Halo treatments offer more versatility with their ability to address skin concerns on other parts of the body, including areas such as the abdomen, legs, buttocks, arms, hands, chest and neck.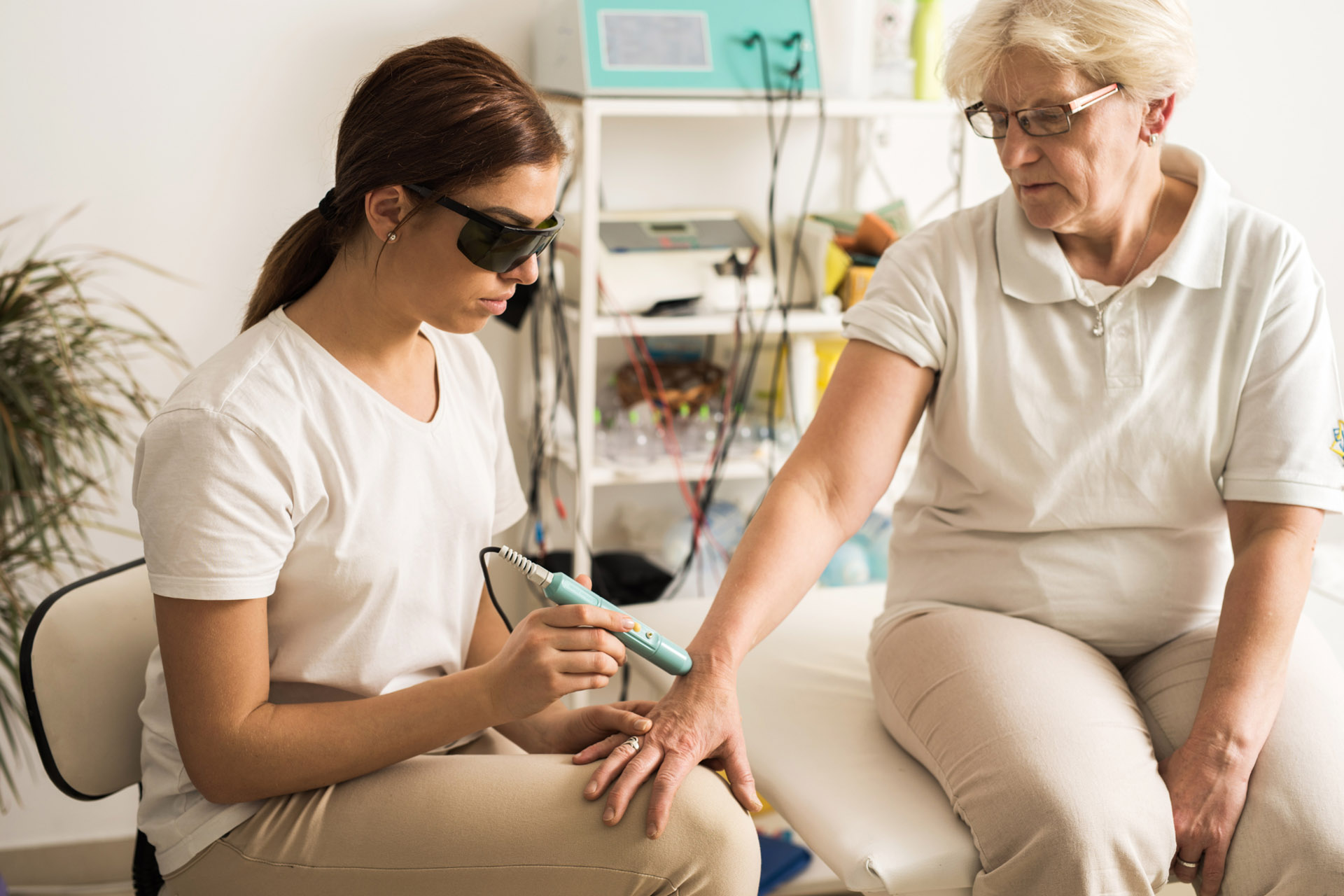 Ultherapy Recovery Time
An Ultherapy treatment can fit into the category of "lunchtime procedure" because you have virtually no downtime and no follow-up treatments necessary. Post-treatment side effects are also rare and typically limited to warmth or redness of the skin, which dissipates on its own within an hour or two. You can go back to work or have coffee with friends after your treatment without anyone even noticing!
Morpheus8 Recovery Time
Morpheus8 recovery time will depend on the depth of treatment, but most cases require minimal to no downtime. It is also best to wait a day before washing your face and putting on makeup to avoid infection in the treated area. As an effect of microneedling, your skin may feel a bit sensitive. There may be slight itching, redness, and swelling for some patients, which will resolve on their own within a day or two.
Halo Recovery Time
A Halo treatment can have several days of social downtime as your skin heals and the hyperpigmentation flakes off the treated area. You can have some swelling and redness that may last several days. While you can put makeup on the treated area 24 hours after the procedure, many people will get their treatment on a Thursday or Friday in order to allow their skin to recover over the weekend.
Tailoring the Treatment to Your Skin
In terms of what results to expect, Morpheus8, Ultherapy, and Halo treatments stay true to their promise of restoring your skin's beauty and youth in different degrees and capacities.
Here's an overview of the skin concerns Morpheus8 vs. Ultherapy vs. Halo can target:
Morpheus8 vs. Ultherapy vs. Halo
| Best for: | Morpheus8 | Ultherapy | Halo |
| --- | --- | --- | --- |
| Hyperpigmentation | ✔️ | | ✔️ |
| Fine lines and wrinkles | ✔️ | ✔️ | ✔️ |
| Dull complexion | ✔️ | ✔️ | ✔️ |
| Rough skin | | | ✔️ |
| Sagging skin | ✔️ | ✔️ | |
| Acne scars | ✔️ | | ✔️ |
| Facial skin | ✔️ | ✔️ | ✔️ |
| Body skin | ✔️ | | ✔️ |
If You Want to Correct Early Signs of Aging
If the main concern with your skin is pigmentation and textural effects, then Halo would be your preferred treatment.
But does Halo tighten skin? Although Halo promises better skin with a significant reduction of fine lines and wrinkles, it does not specifically offer a skin tightening benefit.
In most cases, a single Halo treatment is enough to achieve a patient's desired results. Results vary and treatments are usually customized to fit individual beauty needs and concerns. With a proper skincare routine, the benefits of a Halo treatment can last for months.
If You Have Mild to Moderate Skin Laxity
If laxity is the main issue, but pigmentation and textural concerns are not, then an Ultherapy treatment may be right for you.
For Ultherapy, the post-treatment results are subtle at first, with progressive enhancements in the skin's firmness, texture, and luminosity becoming more noticeable in the months to come as an effect of collagen production's magic work.
The full effect of an Ultherapy treatment may take months to appear, and the final results may last for up to two years, depending on the person's natural aging process and other contributing factors (e.g. lifestyle choices). As a proactive anti-aging therapy, your doctor may suggest yearly Ultherapy treatments for maintenance work. Ultherapy may not work effectively on individuals with excessive fat deposits, significant sagging, and very poor skin laxity.
If You Have Darker Skin Tones and Want to Look Chiselled
Morpheus8 is a great fit for anyone with mild skin sagging and textural skin concerns in the early stages of aging.
It's also a safe treatment option for individuals with dark skin tones who are worried about the risk of hyper or hypopigmentation from laser-based therapies.
Morpheus8 treatment plans are personalized according to the patient's unique needs. It involves multiple sessions spaced four to five weeks apart to achieve the desired results. A notable difference in the skin's overall quality may be spotted after three weeks, although it may take as long as three months after the initial session to see the final results. A yearly maintenance treatment is encouraged to keep your skin stunning and toned.
Get Assessed by a Professional
There's no better way to know which treatment suits your skin best than by getting expert advice from a certified cosmetic practitioner.
When you consult with the team at APT Medical Aesthetics, one of the leading medical spas in the Greater Toronto Area, you can expect stunning results and world-class care.
Find out more about Morpheus8 vs. Ultherapy vs. Halo treatments by booking your free consultation today.
BACK TO ALL ARTICLES