How to Prep Your Skin for Fall Weather
Transitioning to a new season can cause your skin to react heartbreakingly as the temperature drops in fall and winter. There's the inevitable dryness, roughness, breaking out, on top of dealing with sunburn or skin discoloration from too much sun exposure in the summer. 
To prevent this from happening, it makes sense to customize your skincare regime to help your skin adapt to a colder and drier climate. Maintain healthy and happy skin this season with these expert-approved fall skincare tips. 
Let's delve right in!
Switch to a Richer Moisturizer with SPF
It's time to put your lightweight moisturizer away for safekeeping. While it has been handy during spring and summer, the onslaught of cold and dry spells in store for you in the fall and winter season calls for a heavier moisturizer that's hydrating but won't irritate your skin by clogging your pores. If you wear makeup during the day, it's going to make sure it glides on smoothly without the unpleasant flaking due to excessive skin dryness.
For a rich fall moisturizer, you can try Vivier Daily Age-Defying Moisturizer. It's an everyday moisturizer that comes with an added anti-aging benefit of enhancing the appearance of fine lines and wrinkles. 
Invest in a Nourishing Night Cream
Add the step of applying a nourishing night cream in your fall skincare ritual before bedtime. Our top pick for this is the NEOCUTIS Bio Cream Riche. It's a fast-absorbing skincare balm that delivers skin rejuvenating PSP® technology and boasts a powerful blend of moisturizers plus skin-softening Wild Yam extract.
As your body gets into a rest and repair mode while you sleep, it will counteract the dryness and other adverse effects related to the climate or hormonal shifts. It's a richer and more emollient version of the original PSP® skincare that brings back hydration and guards against moisture loss. It's dermatologically tested and non-comedogenic, so there's no need to worry about breakouts or skin irritation.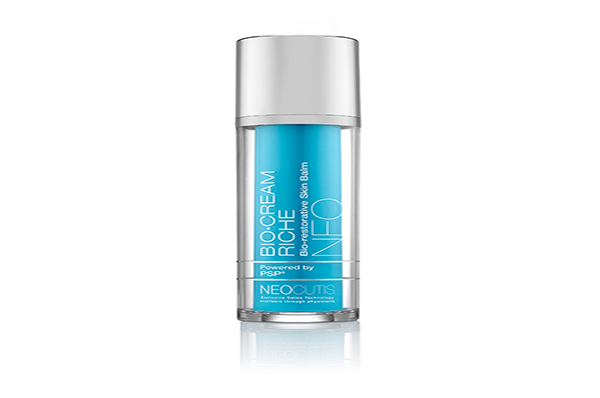 Don't Skip Sunscreen – Even in Fall!
With the coziness and coldness of autumn and the ensuing winter months, many people quickly assume that it's fine to slack off on sunscreen. But nothing could be further from the truth. While UV radiation is more intense in the summertime, experts reveal that it's still ever-present the rest of the year. 
Continue protecting your skin from sun damage by ensuring you have a reliable sunblock with at least SPF 30 in your list of fall skincare must-haves. Our current fave is the Colorescience Sunforgettables® Total Protection™ Brush on SPF 50. It's a powder-based sunscreen that you can brush on top of your makeup and reapply throughout the day as needed. Because it offers a bit of coverage, you can also wear this mineral skin shield on its own when you're on the go or would love to flaunt a barely-there look.
Incorporate Vitamin C Into Your Fall Skincare
Vitamin C-rich products should absolutely be a staple in your beauty arsenal, and your fall skincare routine is not an exception. This antioxidant vitamin not only evens out skin tone, but it also encourages collagen production, resulting in skin-enhancing benefits like brightening up your complexion and slowing down skin aging. An additional benefit of vitamin C in colder months is that it minimizes the negative effects of the UV rays that are not totally blocked by your SPF or lack thereof.
We especially love:
Vivier Vitamin C Scrub – It's a gentle exfoliating face and body scrub that revitalizes the skin. It works by stripping away dead skin cells and revealing a more youthful glow.
Zo Skin Health C- Bright 10% Vitamin C Serum – It's a water-based serum packed with a potent dose of pure vitamin C and advanced vitamin C ester that penetrates deeper into the skin to prevent new melanin formation that causes hyperpigmentation. It promises a clear skin, a vibrant complexion, and a younger-looking appearance that lasts.
Boost Humidity Levels at Home
As autumn and soon winter kicks in, you'll notice that the air becomes drier, and so is your skin. Maximize the effectiveness of your fall skincare efforts by increasing hydration at home. A humidifier is going to make a world of difference in adding moisture to the air at home, which is going to work wonders for your skin barrier to stay hydrated. Position your humidifier in places around the house where you spend most of your time like your bedroom. Keeping your heating at minimum temperature can also help reduce dryness in your indoor air. 
The autumn season is a great time to get yourself a chemical peel. It will take out the dry, dull, and discoloured patches of skin that may have gotten worse due to sun damage during the summertime. It's a tried-and-tested technique of restoring the skin's natural radiance with dramatic results that continue to improve months after treatment. 
Aside from getting rid of the imperfections, chemical peels also stimulate collagen production, an essential component of reducing early signs of aging, such as fine lines and wrinkles.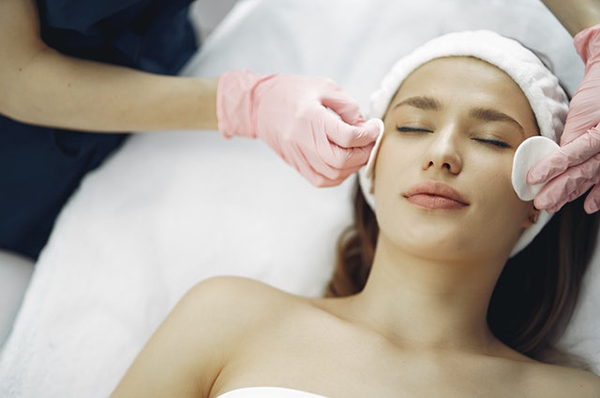 We recommend making the following treatments a part of your fall skincare regimen.
Glow Peel – If this is your first time trying a chemical peel, the Glow Peel is an excellent way to start. It's a light peel that visibly brightens the skin and addresses the flaws caused by premature skin aging, sun damage, melasma, or skin acne. Its peeling strength can be adjusted by how many times the solution is applied to suit different skin concerns.
Renew 30 AKA Red Carpet Peel – A classic example of a "lunchtime chemical peel," this treatment is done in less than 30 minutes. There's no downtime and visible flaking, making it the best beauty secret for last-minute events. Because the results of a gorgeous and glowing skin are instant, the Red Carpet Peel is also perfect if you're looking for a fall skincare hack.
We Can Help Curate Your Fall Skincare Routine!
To effectively create a fall skincare routine tailored to your skin type, skincare concerns, and lifestyle habits, we highly recommend consulting a professional medical aesthetics expert. Here at APT, we are more than happy to hear from you! Book a free consultation, inquire about our products and skin-rejuvenating treatments or ask for expert fall skincare advice.
Contact APT Medical Aesthetics now!
BACK TO ALL ARTICLES