Skincare Masks That Will Make Your Skin Glow This Summer
Skincare masks are all the rage these days. Whether in sheet, clay, or splash form, they're a surefire way to effortlessly stay on top of your at-home beauty regimen while in quarantine and waiting for your next lunchtime chemical peel or HydraFacial appointment.
In this article, we'll share several skincare mask ideas that'll bring out your gorgeous glow just in time for summer. To make everything accessible, we'll be featuring DIY facial masks for different skin benefits and issues that you can make at home using pantry staples as the main ingredient.
Let's delve right in!
Avocado Hydrating Skincare Mask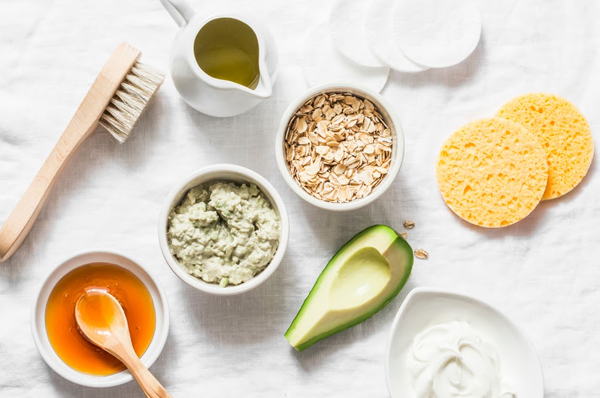 Avocado has gotten quite a reputation as a super fruit with a myriad of excellent health benefits. Aside from being nutritious and delicious, applying avocado topically as a skincare mask can also work wonders for your complexion. Its natural oils can penetrate deep into the skin, soothing, smoothing, and hydrating it. "The hydrating properties may reduce fine lines and wrinkles, help keep skin smooth and boost skin's immunity against stress and other environmental factors," Maureen Eyerman, a registered dietitian, tells Elle. 
An avocado-based skincare mask can reduce unwanted skin redness and inflammation due to the calming properties from its oleic and chlorophyll content. Incorporating avocado into your anti-aging treatment also makes sense because it is packed with carotenoid that promotes good skin elasticity and antioxidants like vitamin E and C that effectively protect the cells against free radical damage is the biggest culprit behind premature aging. 
Here are some of our favourite avocado skincare masks recipes that you can quickly try at home:
Avocado, Cocoa, and Honey
Mix a quarter of mashed avocado, one tablespoon of cocoa powder, and one tablespoon of honey. Apply on a fresh, clean face. Leave it on for 10 minutes. Rinse and moisturize as usual afterwards. Cocoa and honey boast of rich antioxidant properties that can get rid of acne-causing bacteria without drying the skin.
Mash half an avocado and half a banana together. Banana has skin-nourishing vitamin A and E on top of unsaturated fats, a perfect complement to avocado's hydrating properties. Stir the thick mixture thoroughly and make sure there are no lumps. Put your avo-banana mask on a clean and dry face. Wash and pat dry with a towel after 15 minutes. 
Avocado, Yogurt, Oats, and Honey
Combine half of a freshly mashed avocado, yogurt, and raw organic honey. Throw in some oats for a bit of gentle exfoliation. Apply on your face and let it stay on for 15 to 20 minutes. Wash with lukewarm water.
These all-natural avocado beauty masks are safe for people with dry and acne-prone skin. For best results, do it two to three times a week to reveal and maintain a radiant complexion worth flaunting all summer-long. 
Priyanka Chopra's Famous Turmeric Skincare Mask
A-list celebrity Priyanka Chopra swears by a beauty secret passed on to her by her mom. Besides highly recommending coconut oil as a natural and gentle cleanser, they also shared their recipe of a traditional Indian and Pakistani skincare mask that's been in their family for generations. It features turmeric and other natural ingredients commonly used in the kitchen. 
In 2019, Chopra was launched as the first-ever global spokesperson for the skincare brand Obagi, the brainchild of Dr. Zein Obai, the founder of the beloved skincare line Zo Skin Health.
Follow these steps to make Priyanka's turmeric skincare mask:
Ingredients
1 cup whole wheat flour
A pinch of turmeric 
A few drops of lime juice 
A dollop of full-cream yogurt
Rosewater (optional)
Instructions
Combine all ingredients in a large clean bowl and continue mixing until you reach a paste-like consistency. Add a few drops of rose water if you feel it's too dry.
Put it on as a beauty mask and let it stay for 15 to 20 minutes. 
Make gentle, rubbing motions to encourage exfoliation and soften the skin.
Rinse with lukewarm water and pat dry with a clean towel once you're done.
What Makes Turmeric Skincare Mask Work?
Dubbed as the golden spice, turmeric's far-reaching health benefits have been established for many years, particularly in traditional Asian and Ayurvedic medicine practices. Studies suggest that the native Indian spice is a potent antioxidant and anti-inflammatory with potentially positive effects for the improvement of symptoms of chronic illnesses, such as diabetes, heartburn, cardiovascular disease, Alzheimer's, and arthritis. 
It's because of the same antioxidant and anti-inflammatory component that the wonders of turmeric should be taken advantage of in terms of skincare. "Due to its vast benefits, turmeric has been used for the treatment of various skin conditions including acne, hair loss, eczema, aging, itch, psoriasis, vitiligo, and skin cancer in both oral and topical forms," board-certified New York-based dermatologist Melissa Kanchanapoomi Levin, MD, explains.
Turmeric works to slow down the breakdown of collagen, elastin, and hyaluronic acid in the skin, commonly due to accelerated aging, stress, poor lifestyle habits, and other environmental factors. Another factor contributing to Priyanka's turmeric skincare mask's effectiveness is it also has yogurt as a supporting ingredient. Yogurt is rich in probiotics and lactic acid, which induces gentle exfoliation and helps eliminate deep-seated dirt clogging the pores and dead skin cells. Once the dull and lacklustre skin has been sloughed away and your face rinsed, expect to see a luminous glow that will make heads turn.  
Practical Tips When Making Your Own Skincare Masks
These homemade skincare masks are a fun, resourceful, and creative way to inspire you to take care of yourself and not slack off on your beauty routine for summer even when spending more time at home. 
Here are additional tips to get the most out of your skincare masks:
Use only fresh and high-quality ingredients.
Do not attempt to store any leftover skincare mask because, like food, these ingredients can spoil easily. Use whatever's left on your neck and chest area.
Keep your skincare mask in the refrigerator for at least five minutes. The coolness of the mask will add to its soothing and calming benefit. 
Always start with a clean face. Remove all traces of makeup and skincare products before applying the mask for optimum results.
If you are allergic to anything on our list, please skip and find a substitute ingredient that's more suitable for your skin type.
APT Medical Aesthetics also offers a wide range of skincare products and treatment services that can get you summer-ready. For inquiries, please contact APT today!
BACK TO ALL ARTICLES