Understanding The Benefits of Testosterone For Women
Any mention of testosterone or testosterone replacement therapy (TRT) likely prompts thoughts of muscular men—but this is not always the case when used as prescribed. 
Of all the sex hormones, testosterone is known as the predominant hormone in males that plays an important role in developing the male reproductive system, maintaining bone density, and improving muscle strength.
However, testosterone plays an important role in women too. 
Women produce testosterone in their ovaries and adrenal glands. Its function is pivotal in stabilizing mood and energy levels, maintaining sex drive, and ensuring healthy bone and muscle mass. Low testosterone in women may lead to a loss of strength, thinning hair, depression or anxiety, or infertility.
But what causes low testosterone (or low T) in women? What are its symptoms and how can they be treated? We'll answer these questions and more in this article.
What Causes Low Testosterone Levels in Women?
Low testosterone in women usually boils down to a few main factors: menopause, problems with the adrenal glands, or with the ovaries.
Testosterone levels decrease naturally as we age. Once a woman reaches menopause, hormone levels are reduced to half of what they once were. The production of hormones such as estrogen and progesterone also decreases. 
Problems with your adrenal glands will similarly impact testosterone levels—hypothyroidism is the most common example of this. It reduces the amount of testosterone in the blood, producing the aforementioned negative effects. 
Ovaries dysfunction can also be largely responsible for her body's testosterone production. Women who struggle with disorders that affect ovary functioning such as polycystic ovarian syndrome (PCOS), premature ovarian failure, and ovarian removal will affect testosterone levels.
Other causes of low testosterone in women include:
Chemotherapy

Chronic endocrine disorders

Hysterectomy 

Premature menopause

Medications such as opioids or hormonal contraceptives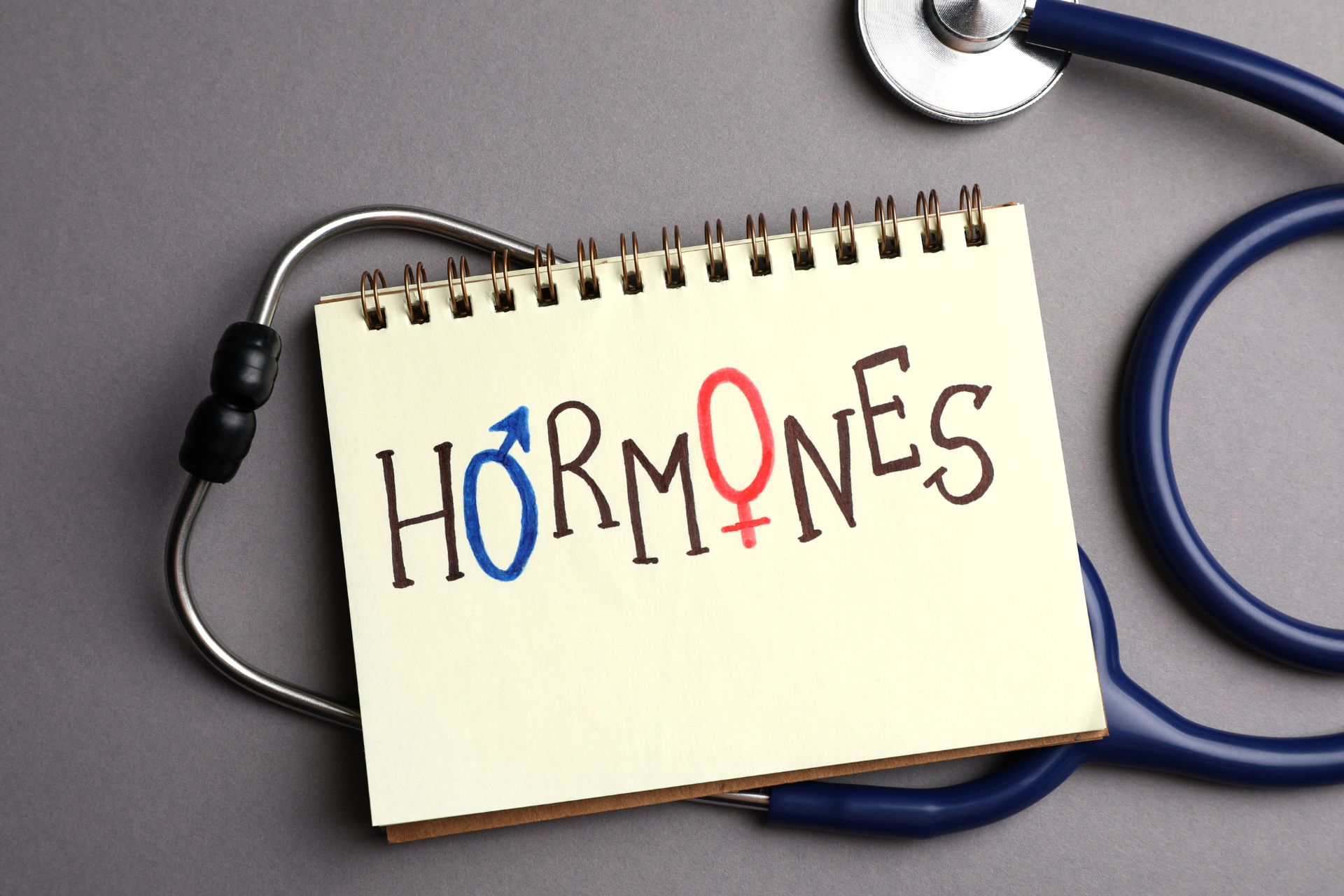 What Happens When a Woman's Testosterone Levels Are High?
High levels of testosterone can be linked to polycystic ovarian syndrome (PCOS), a condition that affects the body's ovulation process. It causes an irregular menstrual cycle and increases the risk of infertility and ovarian cysts.
High levels of testosterone may also be related to stress, obesity, insulin resistance, and other thyroid disorders. It's best to talk to a healthcare professional to determine the right course of treatment for you. 
Symptoms of Low Testosterone in Women
Women with low testosterone may experience any of the following:

| | | |
| --- | --- | --- |
| Decreased libido | Lack of energy | Hot flashes |
| Changes in body composition | Loss of muscle mass | Irregular menstruation |
| Sleep disturbances | Irregular menstrual cycles | Thinning hair |
| Dry skin | | |
Low testosterone levels also cause various health issues, such as an increased risk of osteoporosis and loss of bone density. Testosterone deficiencies have also been linked to hypoactive sexual desire disorder.
If you struggle with any of the above, a healthcare professional may suggest testosterone replacement therapy to help improve symptoms.
How Is Low T Diagnosed?
A medical professional will conduct a physical examination to learn more about your symptoms and gain a good understanding of your medical history. 
They may request blood work to get an accurate diagnosis of your condition or order a hormone panel test to understand the full picture before proceeding with testosterone treatment. 
If you've not yet reached menopausal stages in life, your doctor will advise you on when to test your testosterone levels. Since hormone levels fluctuate during your menstrual cycle, there's generally an optimal time frame in which you should be going for blood work. 
How to Increase Testosterone in Women
Testosterone therapy can be administered through creams, injections, and/or pills. Some may also use testosterone gel or patches to keep hormone levels balanced. It is recommended to discuss all side effects with your healthcare provider before deciding on a treatment method that works best for you. 
You can also try the following to increase testosterone levels naturally:
Maintain a healthy diet, including eating food rich in healthy fats

Exercise regularly; combining both strength training and cardio into your routine

Manage stress levels by meditating and through deep breathing exercises

Take supplements such as magnesium, vitamin B, vitamin D, and zinc
If these natural methods are not working for you, it may be time to consider bioidentical hormone therapy.
The Benefits of Hormone Replacement Therapy
Bioidentical hormone replacement therapy (BHRT) helps improve symptoms of low or unbalanced hormones. It replaces the lost hormones naturally produced in your body such as estrogen, progesterone, and testosterone to improve your quality of life.
BHRT will also help you manage the symptoms of menopause, such as night sweats, hot flashes, and vaginal dryness. It also contributes to better sleep, improves memory and mental clarity, and enhances your skin, nails, and hair.
However, taking bioidentical hormones should be a decision you make after weighing the pros and cons, especially if you have certain health conditions such as heart disease, breast cancer, a history of strokes, or blood clotting disorders.
That said, BHRT is an effective way of dealing with the effects of testosterone imbalances and menopause. Some people reported experiencing relief from their symptoms within days of starting medication. However, this varies on a case-to-case basis.
Testosterone Therapy at APT Medical Aesthetics
As you've learned, testosterone plays an important role in keeping your bones healthy by supporting growth and strength. It also helps to maintain a healthy libido and stabilizes your energy levels. 
Science has made it possible to live a better life if you're experiencing low testosterone—and you can take advantage of that! 
Consult the experts at APT Medical Aesthetics for safe and effective solutions. We are a top-rated medical spa committed to helping our clients improve their quality of life, offering testosterone replacement therapy that makes a difference. 
Ready to get started? Call us today to learn more about our services.
BACK TO ALL ARTICLES