Buying Sunscreen: 6 Factors to Consider
Sunscreen can help you fight off skin cancer and sun damage, so it's important to know what to look for when buying sun protection products. 
Finding the right product that works well with your skin type may seem intimidating given the number of options available. Thankfully, we've compiled a list of recommendations you can follow to help you make your choice. 
1. Look for High SPF Coverage
The first step is choosing a sunscreen with a SPF of 30 or higher. The level of protection you get from an SPF 30 to SPF 50 sunscreen is more effective than those with low SPF coverage. This is especially important because many don't apply sunscreen evenly before going outside. 
Therefore, it's better to start with a high number to ensure you're getting extra coverage and preventing harmful skin damage.
2. Check if it's Paraben-Free
Look for sunscreens that are paraben-free. 
What are parabens, you ask? They're a group of chemicals typically used as artificial preservatives in make-up, skincare, or other related cosmetic products. They prevent and reduce the growth of bacteria or mould in the product to increase its shelf life.
However, they can cause skin irritation, disrupt hormones in your body, impact fertility rates and reproductive organs, and even increase the risk of cancer. They're also harmful to the environment. Make sure to avoid them at all costs!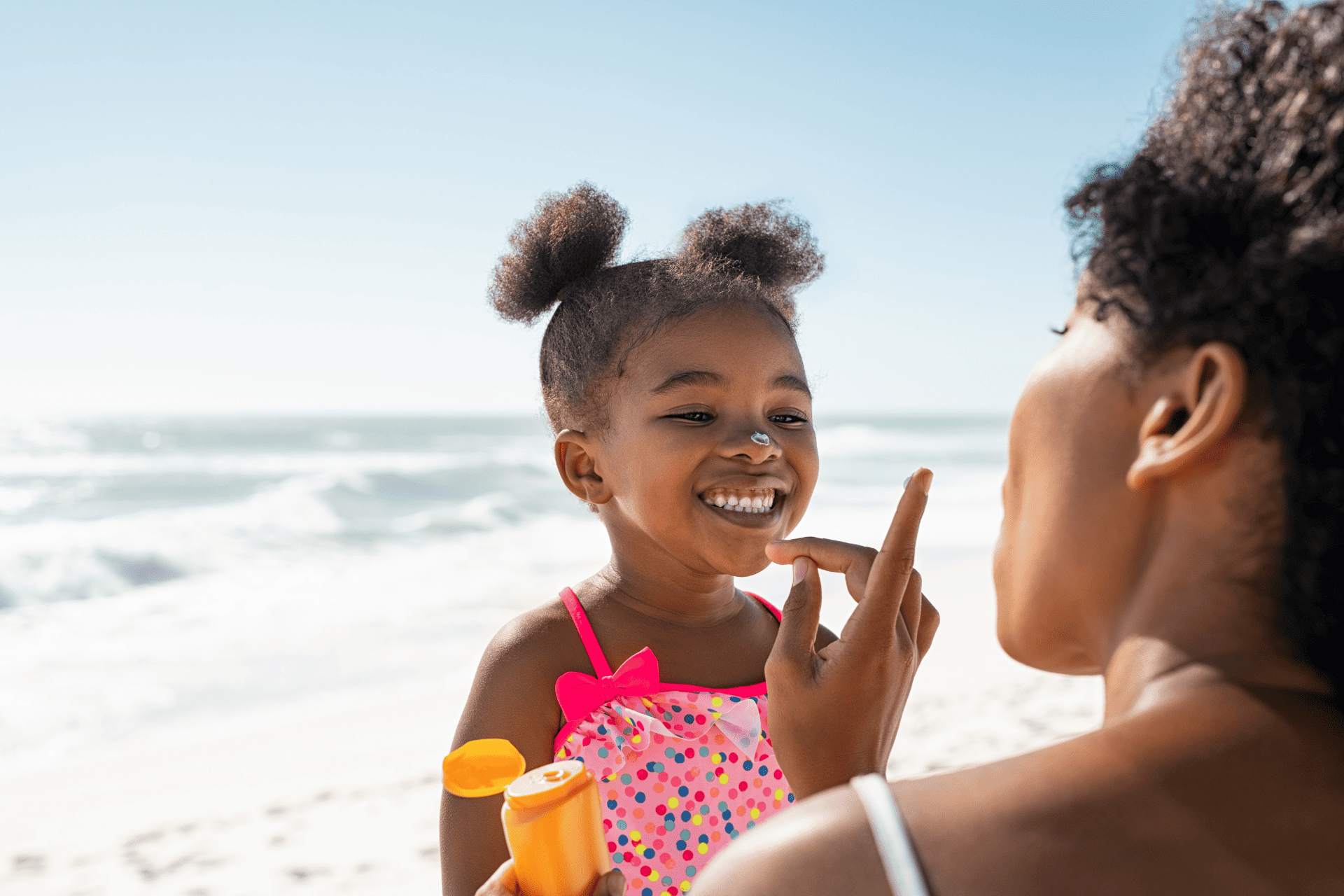 3. Avoid Harsh Sunscreen Ingredients
Avoid harsh sunscreen ingredients that can cause irritation. Although more research needs to be conducted to provide concrete links, the FDA has released a list of sunscreen ingredients to avoid:
Oxybenzone
Avobenzone
Homosalate
Octinoxate
Octocrylene
Cinoxate
Dioxybenzone
Ensulizole
Meradimate
Padimate O
Sulisobenzone
Out of the ingredients above, Oxybenzone is a chemical that is most often flagged as troubling. Try to look for oxybenzone-free sunscreen, if not one that is completely chemical-free.
4. Choose Between a Chemical or Mineral Base
There are two types of sunscreens: chemical and mineral. Both can shield you from the harmful effects of the sun's UV rays, but in different ways.
Mineral sunscreen ingredients sit on your skin and prevent UV rays from penetrating the surface. Meanwhile, chemical sunscreen ingredients are absorbed by your skin, creating a chemical reaction that converts UV light to heat before it dissipates from the skin.
If you have sensitive skin, consider sticking to mineral sunscreens since they typically avoid adding oxybenzone to the product.
5. Consider Your Skin Type
Is your skin acne-prone, oily, sensitive, dry, or mature?
For sensitive or dry skin, choose fragrance-free sunscreens to avoid irritation and inflammation. Sunscreen that has gentle ingredients or mineral sunscreen is better suited for this skin type since it works immediately and is less likely to cause a chemical reaction.
Those with oily skin should stick with matte or powdered formulas because they help absorb excess sebum produced by the skin. They come with the added benefit of easy re-application, which is great if you find yourself outdoors for extended periods of time. 
For acne-prone skin, consider hypoallergenic and non-comedogenic ingredients to ensure it won't clog pores. Most non-comedogenic products also have a matte finish to help with the look of excess oil. 
Lastly, those with mature skin should use a sunscreen that offers anti-aging benefits in addition to UV protection. Check the ingredient list for antioxidants, as these help to protect your skin from pollutants or free radicals that often cause premature aging.
6. Look For Broad-Spectrum Formulas
The sun doesn't emit one ray of light throughout the day. In fact, there are several types of ultraviolet light radiation that are emitted by the sun. The right sunscreen ingredients are the ones that can protect you from all of them.
UVA rays are responsible for visible aging effects on the skin as they penetrate deeper into the surface than UVB rays, which are responsible for causing sunburns. However, both can cause immense skin damage if you're not careful. Look for broad-spectrum sunscreens to ensure you are protected from both UVA and UVB rays. 
Medical-Grade Sunscreen vs. Drugstore Sunscreen
Knowing which sunscreen ingredients to avoid and which ones to look for is extremely helpful in making your choice. However, there is another option if you're really serious about protecting your skin from the sun: medical-grade skincare products.
Medical-grade sunscreen is specifically formulated and tested to meet higher standards of efficacy, safety, and quality compared to drugstore brands. Some of the benefits you can expect opting for medical-grade sunscreen include:
Higher SPF ratings than drugstore brands
Broad-spectrum protection
Formulated to be photostable
Contain high-quality and well-researched ingredients
Rigorous formulation testing 
Regulatory guidelines compliance 
Dermatologist recommended
It's important to note that while medical-grade sunscreens are generally considered superior, this doesn't mean that all drugstore sunscreens are ineffective. There are reputable brands that offer adequate protection, however, individuals with specific skin concerns like melasma or heightened sun sensitivity should strongly consider medical-grade skincare products.
Protect Your Skin With the Right Sunscreen
As you've learned from reading this blog, knowing which sunscreen ingredients to avoid can make a big difference when it comes to protecting your skin from the sun. Make sure you're only applying the best to your skin—it will thank you! 
If you're looking for products that offer better sun protection, check out APT Medical Aesthetics' collection of award-winning all-mineral sunscreens by Colorescience Sunforgettable. 
Sun protection is the bare minimum when it comes to keeping your skin healthy and glowing. Book a free consultation today to learn more about our comprehensive treatment plans!
BACK TO ALL ARTICLES