How to Get Rid of Milia: A Complete Guide
Do you notice tiny, white bumps on your face? Those are not blackheads or any form of acne; they're milia. Also known as "milk spots," they are commonly seen in babies but can appear on adult skin, too. 
Although milia is merely a cosmetic issue that goes away on its own over time, many people who get them often feel self-conscious and frustrated as they look for ways to make them go away, or at least conceal them quickly. 
If you are concerned about this common skin issue, this article is for you. Here's everything you need to know about how to get rid of milia for good and how to stop it from coming back. 
What Is Milia? 
Milia typically form under the eye area where the skin is most delicate but can also develop on the nose, cheeks, and other body parts. It is caused by several factors, including:
Frequent use of thick and heavy creams or harsh cosmetic products;

The buildup of dead skin cells clogging your pores;

Skin damage due to

unprotected sun exposure

;

Trauma to the skin or an adverse reaction due to laser treatment or HSV-1;

Poor lifestyle habits, such as lack of sleep, bad skincare habits, smoking; and/or

Long-term use of topical

corticosteroids

.
Top Treatments To Get Rid Of Milia 
There are so many ways to get rid of milia—but no, squeezing or popping isn't one of them. In fact, most skincare experts warn against doing so because it only amplifies your risk of irritating, infecting, and scarring your skin.
So, what can you do? Check out these expert tips on how to get rid of milia on the face.
Home Remedies 
Double-Cleanse
Incorporate double-cleansing into your everyday skincare routine, especially if you are always wearing makeup, applying serums and thick creams at night, or live in the city. Double-cleansing, which involves an oil-based cleanser followed by a gentle water-based cleanser, preferably with exfoliating properties, helps draw out excess sebum oil, impurities, and dead skin cells that clog the pores and dull the skin. 
Steam Open the Pores
While steaming the pores open does not get rid of existing milia on the skin, it does a great job at preventing new ones from forming. The steam helps to open up the pores and shed any dead skin cells or irritants that cause milia in the first place. 
Here's how you can do this:
Run the hot water in the shower until the room is filled with steam.

Sit in the steam for about five to ten minutes to allow your pores to open up.

After ten minutes, turn off the running water and wait for about five minutes.

Dry your face with a clean towel and then rinse it with lukewarm water to wash away the extracted irritants from your skin before stepping out of the bathroom.

Exfoliate the Area Regularly
Exfoliating your skin on a regular basis is necessary to remove the dead skin cell build-up on your face. Remember to do this only two to three times a week, as over-exfoliating will irritate and damage your skin. 


Use Topical Retinoids
Some studies suggest that the use of topical retinoids, which are derivatives of vitamin A that speed-up cell turnover, may help get rid of and prevent milia. 
To prevent skin irritation, it's best to start out with the lower-strength form of retinoid, also known as retinol. This is used once a day after cleansing the face. 
Opt For a Lightweight Facial Sunscreen
Unprotected sun exposure can be a major contributor to milia. It damages the skin by making it dry, rough, and leather-like, impeding its natural ability to shed dead skin cells. 
Prevention is always better than a cure—so if you constantly find yourself wondering how to get rid of milia, it's best to exert just as much effort in learning how to prevent it in the first place. So, remember to always wear a broad-spectrum sunscreen. It doesn't matter if it's cloudy or cold outside; there are still harmful UV rays that increase your risk not only of milia, but also premature skin aging and, worse, skin cancer. 
Related article: Top Summer Sunscreen Essentials
Medical Treatments
1. Facial Peels
Next on our guide on how to get rid of milia, we have light or superficial chemical peels. Using AHAs and BHAs, such as glycolic and salicylic acid, these can work wonders for banishing milia and achieving a fresh and flawless complexion.
Otherwise known as clinical peels, it's a tried and tested strategy to accelerate the skin's natural exfoliation process without being too abrasive. The beauty of light chemical peels is that they only deal with the topmost layer of the skin, sloughing off dead skin cells and keratin formation, and reducing the visibility of blemishes, like milia. 
At APT Medical Aesthetics, we offer a wide range of facial peels—so you can find the one that's best suited for your skin type. Click here to learn more about these services. 
2. Laser Skin Resurfacing
For milia clusters, your doctor may recommend laser skin resurfacing treatment, like Halo Hybrid Fractional Laser or Clear+Brilliant, to reveal blemish-free skin that glows radiantly. AS always, a personalized consult will help assess if this is the right treatment for you.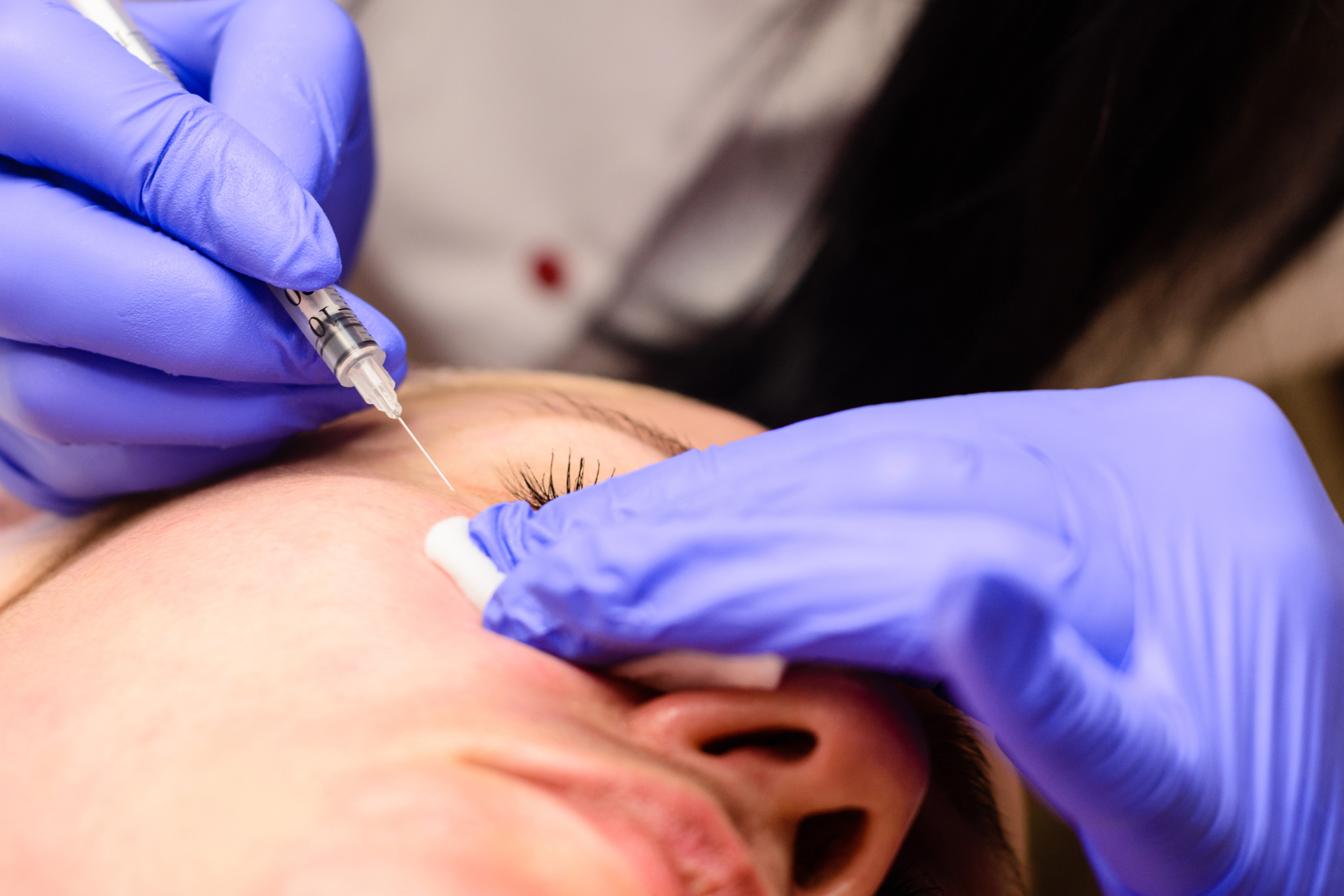 3. De-Roofing
If all these methods to get rid of milia fail, don't fret. Dermatologists and medical aestheticians can expertly remove milia during an in-office procedure. Your doctor can do it with a comedone extractor, tiny milia removal needle, or lancet. It's a hassle-free, painless procedure that you can get done within minutes.
Consult with Our Skin Experts Today 
APT Medical Aesthetics is a leading medical spa in Oakville. We believe there is no cookie-cutter approach when looking at how to get rid of milia—or any other skincare concerns, for that matter. Let our dedicated team help you find the best solutions with the industry's most advanced skincare treatments.
Book your free consultation today!
BACK TO ALL ARTICLES